Koss Noise Reduction Headphones Reviews, Price and Specifications
Headphones for Treasure Hunting
Retail Price: $119.95
Number of Reviews: 0
Be the first to review this item
Email to a friend.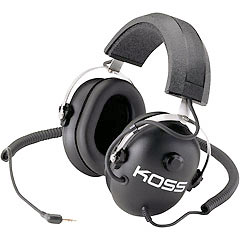 Specifications:
Passive noise reduction system
Frequency response: 40-20,000 HZ
Single volume control for easy level adjustment
Stereo/Mono switch works with most detectors
1/8" or 1/4" stereo plug
Adjustable stainless steel padded headband
Heavy duty replaceable ear pads
Heavy duty coiled side exit cord
Koss Lifetime Warranty
The new Koss Noise Reduction headphone was designed for treasure hunters who operate their detectors in very noisy environments like oceans, city parks or any area that the outside noise is at a high level.
Koss has designed this headset with a very good passive noise reduction system. It's this passive system that enables these phones to cloak over 90% of all outside noise. This headphone is very well made and will last for many years (so well made that Koss offers their lifetime warranty).