Gray Ghost DMC Headphones Reviews, Price and Specifications
Headphones for 2-Channel Audio Devices
Retail Price: $110.00
Number of Reviews: 0
Be the first to review this item
Email this page to a friend.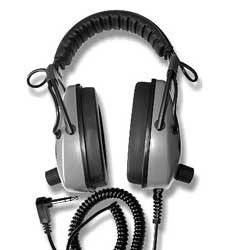 Specifications:
• Separate volume control for each channel
• Heavy-duty earmuff-to-earmuff connection cable
• Heavy-duty coiled cord with a special three conductor 1/4", 90 degree angle stereo connector
• Compact carry and storage foldable design
. • Heavy-duty polymer muffs with full-ear surround, soft comfortable cushions
• Adjustable padded headband... no screws, no wire frame, no rust
• Speakers designed for maximum sensitivity,efficiency,durability,and signal quality
• Special built-in signal limiting circuitry on each channel to protect hearing from high volume hits
• Warranty: Lifetime
Special DMC version designed for use with Nautilus DMC detectors or any two-channel audio equipment that presents different signals to each ear.