White's Classic 4 Reviews, Price and Specifications
All-Purpose Land Metal Detector
Retail Price: $469.95
Number of Reviews: 1
Avg. Rating (5.0 Stars)

Email to a friend.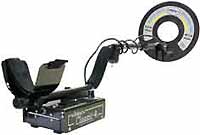 h3>Specifications:
Eighty hours of battery life on a set of 8 AA batteries
Two filter circuitry
GEB Motion Discrimination (detects deeper in mineralized ground than similarly priced instruments)
Discrimination and sensitivity controls with pre-set settings for ring and coin ranges
Silent search
Comfortable counter balanced "S" shaft
Ground balance trimmer
1/4 Inch headphone jack
9.5 inch interchangeable Pro coil
2-year warranty
Weighs 3 lbs
Operating frequency 8.0 kHz
White's Classic 4
Esteban James in st pete fla -

This machine is a good deep seeker and discriminator. In All Metal mode, it chatters near salt water but ok in discrimination mode. I love the trigger search in All Metal mode and trigger to discriminate.
Aug 03, 2013
3 people found Esteban James's review helpful.