Nugget Buster Headphones Reviews, Price and Specifications
Headphones for Nugget Hunting
Retail Price: $99.00
Number of Reviews: 0
Be the first to review this item
Email to a friend.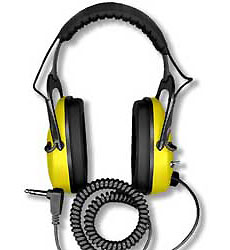 Specifications:
Single rotary volume control with "stay put" segmented "click" positioning
Selector switch for metal detector compatibility with all single-output metal detectors without adapters
Heavy-duty earmuff-to-earmuff connection cable
Heavy-duty coil cable with special 1/4", 90 degree angle stereo connector
Compact carry and storage foldable design
Heavy-duty polymer muffs with full-ear surround, soft comfortable cushions
Adjustable padded headband... no screws, no wire frame, no rust
Warranty: Lifetime
Nugget Busters Headphones were designed to the specifications of demanding professional electronic prospectors and gold nugget hunters.
They are similar to the Original Gray Ghost but without any limiter for wide-open sound.