Jolly Rogers Ultimates Headphones Reviews, Price and Specifications
Headphones for Metal Detecting
Retail Price: $110.00
Number of Reviews: 2
Avg. Rating (1.0 Stars)

Email to a friend.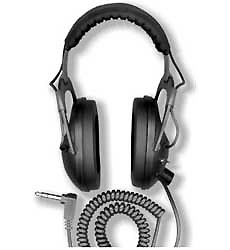 Specifications:
Dual-rotary volume control with "stay put" segmented "click" positioning
Limiter Switch for reduction of excessively loud target signals
Selector switch for metal detector compatibility with all single-output metal detectors without adapters
Heavy-duty earmuff-to-earmuff connection cable
Heavy-duty coil cable with special 1/4", 90 degree angle stereo connector
Compact carry and storage foldable design
Heavy-duty polymer muffs with full-ear surround, soft comfortable cushions
Warranty: Lifetime
No Instructions - No Markings - No Good
Bill in Columbia, TN, USA -

The Ultimates do not live up to their hype. Neither the volume knobs nor toggle switches are marked. Trial and error will get sound but it is best controlled by the metal detector's volume control.
Feb 14, 2012

Not worth your money
Muleskinner in Montana, USA -

I bought these from Kellyco and am unhappy. They say they are sound limiting to protect your ears but you don't have to worry about it because the maximum volume is not high enough. I run them FULL volume on my new Minelab, and I don't even use the dual volume controls because they are useless.
The two toggles are not even labeled.
I really got shafted. Save your money and get something worth around $35 because such headphones would work just as good!
May 24, 2011