Black Widow Headphones Reviews, Price and Specifications
Headphones for Metal Detecting
Retail Price: $140.00
Number of Reviews: 5
Avg. Rating (4.8 Stars)

Email to a friend.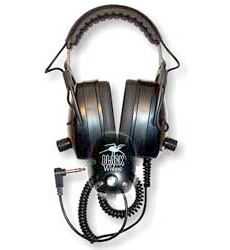 Specifications:
Dual rotary volume control with "stay put" segmented "click" positioning
Selector switch for metal detector compatibility with all single-output metal detectors without adapters
Heavy-duty muff-to-muff connection cable
Heavy-duty strain relieved coil cable with special 1/4", 90 degree angle stereo connector
Compact carry and storage foldable design
Heavy-duty polymer muffs with full-ear surround, soft comfortable cushions
Sensitivity: 72 db @ 1 KHz Min
Frequency response: 200 - 3200 Hz... only what your detector uses
Impedance: 150 ohms nominal
Warranty: Lifetime
These headphones are engineered for detectorists with challenged hearing and for hunting environments with high ambient noise levels.
The spider is better...
MongoLloyd in California -

Ridiculous graphic that only a kid can love? To the guy who maintained that... I would much rather have the Black Widow graphic on my headphones versus the picture of the inbred southerner that can be found on Gray Ghost headphones.
Black Widows are outstanding headphones.
May 23, 2012

Black Widows vs. Diamondbacks
David L. in Arizona USA -

I've used several different headphones with my Minelab GPX 5000. The Black Widows do an excellent job of keeping out the noise. I only have 2 complaints: 1) I can't hear a rattlesnake if I get too close to it, and 2) the ear cuffs get really wet with sweat in the Arizona heat.
May 19, 2012

I'm Pleased...
Greg in Southeastern Pa. -

I'm quite pleased with the performance of these headphones, but have a few minor complains.
First of all, it is the ridiculous Black widow graphics on the sides.
I'd probably be attracted to these if I were still twelve years old, but I'm not.
Secondly, the cord is way too short.
If I want to keep the headphones on while recovering a target, I have to position the machine directly next to me.
I understand that if the cord is too long, it can potentially become entangled, but this cord needs an additional 12".
Oh, and the toggle switches are too easy to inadvertently turn off while removing/replacing headphones (because the cord is too short...).
These are minor complaints.
Overall, I'm happy...they make a huge difference, and I cannot imagine detecting without them (or any headphones, for that matter).
One and 3/5ths thumbs up!
May 28, 2011

Black Widow - Top Dog!
Chuck Smith in St. Francisville, Louisiana -

Thanks to noisy hobbies in my childhood, and additional Civil War reenacting with an artillery unit, I suffer what is called shooter's notch, especially in my left ear. I hated to admit to needing hearing aids, but gave in and got my first pair for my 50th birthday. That raised the question of what headphones to use, and Gary Storm of Detector Pro answered that for me with the Black Widows. They are phenomenal! I can now hunt with the young guys again, and bow to no one when it comes to hearing. The parts are solid and well put together, and the adjustments are clean and precise. Others can copy, but Black Widow did it first and best, plus they continue to improve as new ideas come out. I simply set one level of hearing for my better ear, then boost the other. Easy, quick, and rock solid!
Jul 04, 2010

Quality Product
DOGMAN in UNITED KINGDOM -

The deeper ear cups really do keep outside noise to a minimum, and as such are not just for people with hearing defects as advertised. The build quality is what you would expect from the detector pro range, and look like they will last for a good many years hassle free. Some other makes of headphone produce a deep bass sound unlike the Black Widows. These emit a clear sharp tone on my Whites XLT Spectrum which I prefer. They also pick up those faint deeper targets easier. Worth the investment, BUT be aware that importing these from the U.S may well cost you another £28 import tax to the U.K !
Jun 03, 2009