White's Classic 5ID Reviews, Price and Specifications
All-Purpose Land Metal Detector
Retail Price: $569.95
Number of Reviews: 3
Avg. Rating (4.7 Stars)

Email to a friend.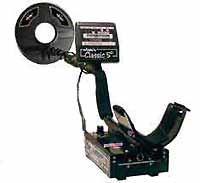 Specifications:
9.5 Inch Pro Deep Searching Coil. Interchanges with other accessory coils.
Deeper, More Accurate Target ID with Xtra-Large meter
Large Eight-block LCD with Easy-to-Read Graphics
Two Controls: Discriminate and Sensitivity
Silent Search Discrimination. Hear JUST the treasure
Very slow sweep and quick recovery
Classic 5 ID Pro Meter
Pro 9.5" Wide scan coil
Automatic Set Ground Balancing
Optional adjustable ground balance
Trigger Pinpointing switches to "All-Metal" for easy pinpointing
All-metal or discriminate modes - Both with VDI
Convenient handle mounted pinpoint/All-metal Toggle
Three-piece rod set breaks down into a compact package for travel
Slide-in 8 "AA" battery system delivers up to 50 hours of battery life
Weight - only 3.8 lbs
Operating Frequency 8.0 KHz
2-Year Warranty
I Love This Detector
Dave T in Penn Hills, PA USA -

I've owned the Whites Classic 5 ID for several years now and cannot say enough good things about it. It has paid for itself several times over with finds I have made with it. I have upgraded the original 8" search coil with a 9.5" coil and it performs significantly better. The weight/balance of the detector is excellent, allowing you hours of detecting without arm fatigue. A few key items missing are a battery life indicator (I get 40 hours out of mine w/o headphones) and a depth indicator. Experience will tell you the depth by the signal sharpness and strength. It is also succeptable to interference from high voltage transmission lines (and the Harbor Freight pin pointer!).
All in all, the Classic 5 ID has served me well, but like other electronic gear - it is becomming obsolete with the introduction of new detectors in its price range.
Sep 15, 2010
3 people found Dave T's review helpful.
Great Detector
Harvey Steinmetz in Mount Laurel new jersey USA -

This is a great detector for the beach. I live near the beach in New Jersey, and found lots of clad coins in the dry sand, some gold and silver. I also have an Ace 250, both are good detectors.
Aug 18, 2009
2 people found Harvey Steinmetz's review helpful.
Machine for All Ages and Experiences
Mike Toth in Willis,Michigan -

This machine is a very good machine for all levels of skill. It is very accurate and the batteries last quite awhile. I have used this machine to the point where it has been an extension of my eyes, ears and instincts. I have been metal detecting since the 1980's and this machine has what it takes to get the job done. It has depth, sensitivity, and accuracy. It is light weight and you can swing it for hours on end without any problem. The only thing this machine could use to enhance its capabilities would be a battery meter and depth meter without loading it up with a bunch of useless bells and whistles. Bottom line is if you would like a better machine than you have now, get this one, it will serve you well.
Sep 09, 2008
34 people found Mike Toth's review helpful.