Sun Ray INVADER FZ-1 Target Probe Reviews, Price and Specifications
Detector-Mounted Probe
Retail Price: $179.95
Number of Reviews: 0
Be the first to review this item
Email to a friend.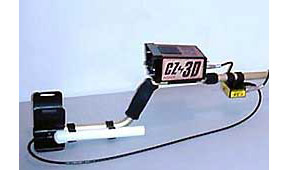 SPECIFICATIONS:
Fully compatible with all Fisher CZ models (except CZ-20)
Accurate "bullseye" pinpointing on coin size targets up to 3" + deep
Light weight
Waterproof/submersible
9" X 1" diameter probe mounts nicely along arm rest for easy access.
FZ-1 probe and cable weigh approx. 6 oz
Weigh: 5oz - 11 oz total
While the FZ-1 probe is waterproof the switch box is water resistant and must not be submersed.
Installation requires no tools or modifications to the detector.
Switch box and probe clips are attached by removable velcro lined clips.
The FZ-1 incorporates all of the same functions as the stock coil including visual and audible target ID along with identical pinpoint functions.
High quality custom made, durable probe and connector cable used for precision performance.
Probe incorporates a 30" cable with strain relief for "tangle free" operation.
FZ-1 switch box is conveniently mounted on detector pole attachment.
No external buzzers, vibrators or lights are needed as all target responses are heard clearly through your detector headphones.
No extra batteries required as the FZ-1 utilizes the detectors power source.