Automax Precision v4 Reviews, Price and Specifications
Pinpointer/Probe/Mini Metal Detector
Retail Price: $139.95
Number of Reviews: 12
Avg. Rating (1.8 Stars)

Email to a friend.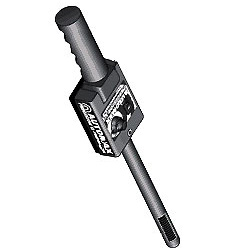 SPECIFICATIONS:
Built-in audio indication
Super-bright LED target indication light
Super v4 Vibrator
Toggle ON/OFF
Target sensitivity control
Long and Deep Probe
Waterproof copper wound HP coil
Rugged construction
Surface mount technology
Easy removable battery door
Ergonomically designed handle
Belt Clip easily clips to all size belts
Operates on 9 volt battery
1-year warranty
Is there a MINUS ZERO STAR?!
Alden in Scranton,PA ----USA -

A friend I am going detecting with has one. The 9-volt battery plug broke. I said I'd take it and fix it for him as a favor. I just spliced a new plug into the wires, without even touching anything else. Now it stays on all the time as if metal is touching the sensor. Well, there goes my $60 Fisher pinpointer as I will feel obligated to replace it and give him mine. Junk! Best not breathe on them! My fisher is the size of a walkie/talkie and, 3 inches away, it buzzes or vibrates. These Automax V4's are for kids!.. Maybe even bordering kids level.. Junk-Junk-Junk. Who would want to lug one around all day long anyways? Almost the size of one's detector. The old fashioned way is the way to go: just lift your coil and re-police the dirt pile.
Jan 19, 2016

That Australian MDG deserves a standing ovation
Carter John in ACT -

Good on that guy for sticking up for what he believes in, & for his opinion... Did anyone stop to think that maybe he's more intelligent than what you may think?
Ok, maybe the logic is weird. But I can't understand then if only for the entertainment side of it? Why then he gave 4 out of 5 stars???? I recon he must just had the last laugh then & have actually given him positive criticism to help further his cause.
lol, I'd give him a 5 star just for finally some positive wind up of this review. Any pinpointer can be cr*p, just depends on how much your willing to spend on any piece of cr*p for the name. Pinpointer's for the most of it are all cr*p in the first place (they're all made of cheap recycled plastic & electronic components, that's why they add more bulk to the probe just to hold them together & pay the price just for a pretty name on the side).
I love a good debate. Don't you?
This has been a hell of a chuckle.lmho
Aug 09, 2013

V4, Use Some "Imagination". Just modify it! simple...
MDG in Australia -

[Webmaster's Note: I could not tell whether the following review was written by a child or an adult under stress, but please do not be offended or provoked by it.]
I've had the v4 for 6 years and never had a problem. OK, so it's bulky, so what?! Ever think to solve the problem instead of whining about it.
[Webmaster: informing everybody about this pinpointer being a total cr*p should not be called "whining". Folks, please do not fall under your tables when you read further! :)]
It's called easy modifications. Cut the handle off (there you've just taken some length away), then the Vibrating Mt can be re-positioned behind the Pezo in the main housing! I even added a Vol. control for the Pezos buzzing & the coil housed inside the probes sleave can always be changed to a better less wider probe instead (that idea just came to me). And there is also an adjustment pot under the belt clip that by carefully adjusting will increase the 'Sensitivity' or what they call "fine tuning" your device.
Spending a $100-400 on a handheld pinpointer is just absurd! Didn't you know that they all have made in China, Japan, India, Taiwan parts! The only electronics that won't fail in the long run, are the ones that get quality control checked at the assembly line... And all the rest that don't are guaranteed not to last, wether in 1 day or within 12 months of getting it. Why do you think that you only get between 6 month warranty or 12 for?? [Webmaster: this logic is weird, but I let it pass for your fun. :)]
What is a handheld pinpointer???! It's there to assist/help you find a target once you've dug the hole in the 1st place, come on... How far from do you want a PP to alert you in distance?? (2000km away!) Are you kidding me!??! So you have to be within close range, i.e. 1" or less... The farther away a pinpointer goes off, the longer it's going to take you to find the target exact in the 1st place. And as for depth!?! Had anyone not noticed that your problem with most other pinpointers is that they are short in depth because they got the short end of the stick (a short & stumpy sniffing nose). So the only reason that you'd have got no depth then, is you need a pinpointer with a longer probe!. [Webmaster: what????! I'm rolling under my table now! :)]
I'm not an electronics wiz kid, far from it. I found the mod for the V4, but just made my modification the way I wanted to for me. And I call it 'using my little imagination'.
Everything stops working sooner or later. Depends on how You Used It. Not calling the seller up 1hr later saying it broke!, then wanting a freebee... When you know you broke it in the 1st place because you didn't like how it worked for you [Webmaster: What???????????????!] & then go get the hiccups up. LOL Poor Man's Pinpointer... I don't see nothing Wong with it!
[Webmaster: everyone, please stay calm. :)]
Aug 08, 2013

Do Not Buy!
Kevin Strahan in Natchez,Ms -

This thing is HUGE. It works great but is enormous and will get in your way.
Apr 17, 2013

Not worth the plastic it is made from.
Scubamark in Southern California -

This is the sorriest piece of equipment you will ever find in the history of mankind. If you ever heard of a blender attached to a bicycle to make a blended drink then you know of even better equipment then the Automax Precision v4. There are not enough bad words to describe this pin-pointer, and the underhanded practice that Kellyco uses to get you to think this is a good enough product to even sell. I am certain if they were to leave this item out of the options list no one would miss it. What they should do is add something that is worth more than this piece of Cr@@@@pppppppp!
Feb 07, 2013

Worthless
Tim in Texas -

Never used a Pinpointer before, but decided to get this one from Kellyco along with a new detector. It is totally worthless. I had to physically touch the item with this pinpointer to get it to register. I called Kellyco to make sure it was working correctly, and the gentleman confirmed that you do have to physically touch the item. After checking some other sites, I found this is NOT how other pinpointers operate and I needed to take all "reviews" on Kellyco with a grain of salt.
Jan 03, 2013

Junk..Buy Garrett
Macfleetwood in atlanta,ga -

Mine runs all the time. No way to adjust sensitivity. All you can do is turn it off!
Oct 27, 2012

JUNK
Bill in mo -

I got one free with my new detector. It quit working about 15 min after using. I called and got a new replacement. After starting to use it, I lost sound, but still have vibrator working. It only will go 3/4 inch depth. It's bulky, complete China junk. Do not buy!

Oct 13, 2012

Automax V4
Maurice in USA -

I would definitely not recommend this pinpointer. I am now returning to metal detecting after a 20 or so year break from it. Pinpointers are a new phenomena for me. All I know is that the Automax V4 was included in my purchase package and I have tried to use it many times. It will work if you put it right against your target. If you are more than an inch away, forget it. I have adjusted the sensitivity to no avail. If I were you, I would save up my money and buy a better pinpointer. As for me, I will return to running dirt over the coil. It worked for years before pinpointers.
Feb 22, 2012

Better get a kiss!
Bill in USA -

The Automax V4 is a piece of cr*p. Only the very tip of pointer senses ...and that has to be at least 1/4" or closer. Will not sense a dime, even upon direct contact, so, if you buy this one, you better get a kiss, because if not, all else you will get is a piece of cr*p! Would like to communicate with Ron Prentkiewicz.
Aug 25, 2011

There Are Better Units Out There!
Nitro-Nicky in Santa Rosa, Ca -

I just purchased a Pistol Probe to replace my now broken in half Automax. There's nothing in the world like the ease of detecting that a probe makes. However, the Automax is bulky, doesn't tie down or slide into anything well, and is often unmanageable between plugs. You have to be right on top of target to find it - which promotes a bit of needing to poke around with the tip of the unit. Did I mention mine snapped in half? It's too easy to bump the sensitity knob askew.
Jul 31, 2009

Pin Pointer
Ron Prentkiewicz in Hesperia Mi. -

I got one of these, when I got a new detector. I was surprized at the size of this unit. I did some research and found a way to change it: I took about 1/3 of the weight off. It pinpoints a penny about 1" to 1 1/2". For price, it was free, I'll get used to it.
Feb 03, 2009