DetectorPro UniProbe Reviews, Price and Specifications
All-in-One Pulse Inductance (PI) Pinpointer/Metal Detector
Retail Price: $350.00
Number of Reviews: 0
Be the first to review this item
Email to a friend.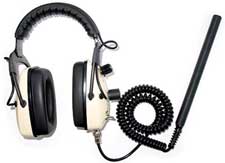 SPECIFICATIONS:
Operating Search Frequency: Pulse Induction
Searchcoil: 8" x 5/8" diameter probe
Probe Depth:Up to 5-6" deep on coins
Headphone Transducers: Speakers designed for maximum sensitivity, efficiency, durability and signal quality
Audio Frequency: Pulse VCO
Headphone Earcups: Heavy-duty polymer full ear surround; extra comfortable soft cushions, ambient noise blocking up to 23 decibels
Headphone Frame: Adjustable padded headband, compact carry foldable design
Warranty: 2 years
UniProbe is a new high-powered pulse inductance probe that can be switched on or off during hunting and retrieval with your metal detector. Or it can be used just as a set of high-quality detector headphones. Or with an optional PI searchcoil and rods, it can be turned into a complete PI metal detector.