White's Matrix M6 Reviews, Price and Specifications
All-Purpose Land Metal Detector
Retail Price: $699.95
Number of Reviews: 6
Avg. Rating (4.8 Stars)

Email to a friend.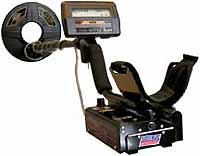 Specifications:
Turn-on-and-go Simplicity
2 controls-DISC and SENS
Auto Trac Toggle Beach, Auto and Off Mode
Pinpoint/All Metal Mode
7 tone I.D.
Full Size Display Target Labels, VDI Numbers, Depth Reading
Slide-in AA battery pack for up to 40 hours of hunting
9.5 inch Waterproof Search Coil (The Matrix M6 is compatible with all Eclipse accessory search coils)
Operating Frequency 14kHz
Two Year Parts and Labor Warranty
Aircraft-grade aluminum housing
Whites M6 Matrix
Karl in england -

I spent two minutes searching with the M6 Matrix over the ground I had previously searched with a different detector, and found two coins! Absolutely brilliant machine!
May 10, 2017

M6 is big surprise.
Sergs in Latvia, EU -

M6 is very easy to use. Depth and iron discrimination are super; however, recovery speed is a little slow. This machine likes silver hammies giving a sure signal. For this price, best MD in market.
May 20, 2012

Good
Mattay in uk -

I just bought an M6 because it was time for an upgrade. I have used the garrett 250 which is simple and good. I'm still getting used to the M6 and its VDI numbers. Verdict:
I find it very misleading that this machine keeps saying "pul tabs", "ring", "foil". That's just second rate guessing when what you dig up is totally different. But apart from that, it's a powerful detector, and you can feel its power when you first use it, something I never felt in the Garrett. I never saw a bad review for the M6, and you never see 2nd-hand ones for sale, so the proof is in the pudding. Overall, it is a good machine.
Mar 10, 2011

Good for WW2 Relic Hunting
Claudio Nini in Roma, Italy -

With this detector, I found several WW2 artifacts (British, American and German) in the area of the landing. Besides bullets, shells, buttons and pieces of weapons, I found a gas mask, different German and American medals, insignia and other decorations. WW2 relic hunting is Very interesting with this detector. It has excellent discrimination and recognition of metals. Detector's price is a bit high but worth them all finds.
Sep 11, 2010

Beginner Finds First Zinc Penny at 7" Depth
Steve in Western Maine, USA -

This is my third detector I've owned so far. Last year, I started metal detecting with a Bounty Hunter Time Ranger which was an Ok machine but not worth over $450.00. Then in March I bought a Discovery 3300 (same machine as Titan 3000 XD) and off the bat found coins, this thing loves zinc pennies at a depth around 3-5". Then I had been reading reviews about White's machines and decided on the White's Matrix M6 because of the simplicity and very easy learning. Plus, M6 has the same circuitry as White's MXT, and it is $150 cheaper. I've owned it for a week and found $0.30 so far, nothing old yet but still learning the machine's ins and outs. Its depth is awesome: I have found bottle caps at 12-13" in the fields. I think any experienced detectorist would really love this machine.
May 02, 2008

SMOOTH OPERATOR
Bill W. in south maine -

OK..... Simple, fun and easy to learn. Very small curve but it's no problem to master "IF" you pay close attention to what the machine is saying "AND" remember what you dig up...this machine loves to find gold and silver. Stop wasting time on settings and complex programs and just find deep targets like fat gold rings. Ground Tracking is flawless, Target ID is dead on. This machine will blow you away with its depth and gold seeking abilities. Happy Hunting! B.W.
Jan 02, 2008