Nexus Standard SE Reviews, Price and Specifications
Deep Seeking Land Metal Detector
Retail Price: $2,100.00 (£1,200.00)
Number of Reviews: 5
Avg. Rating (4.8 Stars)

Email to a friend.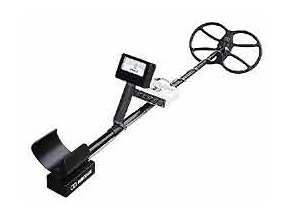 Specifications:
Variable Voltage Controlled Oscillator (VCO)
2 search modes
All Metal meter ID
Batteries: 10 AA alkaline batteries
Battery Life: 45 hours
Manual Ground Balance
Telescopic Glass Fibre stem with scratch and ware resistant gloss paint and locking pin
ABS Glass Fibre resin potted 8" search coil
1/4" headphone jack
Weight: 1.8kg (3.6lbs)
No internal speaker; requires headphones (included)
The Nexus works best on pasture,woodland and most other level ground,excluding the beach.
Deep seeking machine
Ken Sanders in Woodbury,TN -

Hello, I have had my Nexus since 2007. This machine is definitely a deep seeking machine. I think it is one of the lightest and well balanced machines I have ever used and certainly the deepest. I have hit metal objects at 2 feet that was approximately 5 inches with strong clear signals. As far as not a machine for novice, I think it is one of the easiest machines to use. The key is to learn the different pitch in tones with different metals. Even though it is a monotone compared to the Minelab Explorer II which has mutliple tones, there are differences in the pitch with each metal. The only concern with me would be the price, but if you looking to do some serious deep hunting with a good machine, I would definitely recommend it.
Feb 28, 2013
6 people found Ken Sanders's review helpful.
Nexus True Performance
Chas Hunter in Durham England -

I bought one, used it continually off and on to the point of sheer frustration. We would have been better off buying a Bounty Hunter. The discrimination is a no go. You will be lucky to find an object as the noise is continuous. The machine picks up soil mineralisation. This detector is highly overpriced and overated.
Apr 29, 2012
10 people found Chas Hunter's review helpful.
As deep as they say
Stephen Randall in Chester, UK -

I was a little unsure of buying a Nexus because the older model used to be with a fixed length stem and I prefer an adjustable stem. With the latest models upgraded with a custom handle and adjustable stem with locking collar, I decided to give it a go.
I've been really pleased with the detector and hit some great, deep targets on my first day out, so far the detector does as they say.
The build quality of the latest models are sturdy, I would say it's military spec.
The service's been good, I didn't receive a user manual in my box and called to their office in Hemel Hempstead, they were really helpful and I quickly received it in the mail.
Oct 07, 2011
9 people found Stephen Randall's review helpful.
Nexus SE Review Update 2009 Model
Gooch in Cyprus -

Hi! If you are reading this update, you probably read my first review. Since then, I have got some other details to add. Regarding the first review, which I believe I should correct. In my first review, I wrote how the build quality was pretty poor. What I FAILED to say was that the machine I was using was one of the earlier models. Since then I have used a 2009 model, and the build on these latest machines are 100%, and all earlier teething problems have been sorted out. I noticed that the handle attachment has now been reinforced with metal screws so I dont believe I will be experiancing any handle breaks in the future. I also want to clear up a matter regarding repair on these machines. I have read some posts that buyers are afraid to purchase a Nexus as the repair center is in Bulgaria, my experiance with the service center was Brilliant! I sent my machine, which you read about in the earlier review, to Bulgaria from Cyprus. It took 3 days to arrive. It was repaired the same day! It was sent back out to me a day later, so in total 1 WEEK was spent without the machine! I believe that is more than reasonable, I hope that this review has helped clear some of your fears on the overseas repair center and the machine itself. Thanks! Gooch
Jul 07, 2009
17 people found Gooch's review helpful.
Good and Bad Points Review
Gooch in U.K -

I was sceptical regarding some of the claims made by users of this metal detector, but, after the machine was reviewed by a very respectable hobby enthusiast in the U.K, I took the plunge and bought one. I'm gonna write an honest review based on my experiences with the machine, some are good, but, be warned - some are bad! Firstly, you might know that this machine is hand-built. It put together badly and with not the best materials. An example of this is the arm coupling which is a piece of ABS plastic held with two screws, and when I say screws, I mean the black drywall screws for holding plaster board! They get loose during detecting, so I have to carry a screwdriver with me to combat this problem. Now, don't be put off just yet, I will keep going through all the bad points first. The detector's shaft is extendable just like a fishing rod made from a type of plastic or maybe fibre glass. The handle is attached to the shaft with a fitment which is made from plastic. Now bear in mind that the machine is quite heavy, and with constant use, you can feel that the weakest link is the handle which takes all the stress. I found this out whilst detecting out in the field. When I started to swing the search coil low and behold, I was left with just the handle and the wire in my hand. At first, I was gonna send the machine for repair but I knew this was going to cost a lot as I had to send it to Bulgaria. So I taped the handle back on with strenthening duct tape and some thin wooden supports. The machine works fine now, but I would recommend that if you do buy a Nexus, tape the handle for extra strength! You are probably thinking,"No way I am buying that machine!" But you would be making a grave mistake! Now on to the good points. If you are willing to put aside the problem with not so well built detector's body, which you should expect from the prototype self-built projects, then you will do fine with this machine. I want to say that the claim of being the deepest detector currently available on the market is totaly true. I have tested it at home (Air Test) and in the field, and it really can go deep! Will it find coins? Believe me, I find coins from 0.4mm in diameter, which is very small, to large 3cm in diameter at depths. The search coil is so sensitive that it can pick up a small target in the same way the Minelabs GPX 4000 PI units sense the smallest nuggets. I find tiny (0.2mm in size) ferrous and nonferrous bits! It excels on large targets too. So it is great not just for relic hunting, but also for hoard hunting if this is what you are looking for. I did a test under undisturbed ground: this detector could pick up a coke can easily at 70cm, and that was not me pushing the machine to the limits. What I'm gonna tell you now is the most important. If you are thinking of buying the Nexus, and if you are a complete novice, stay away from it! Or go for the new basic Corranando model. If you don't have any metal detecting experience, you must spend hours to learn the way of using this detector, otherwise you will want to get rid of it. An example is that ground ballancing is not straight forward and very difficult to do, and you won't know if you have it ballanced most of the time. The Nexus is good on flat grounds and can be quite stable at times, but if you take it to the rough terrain, operating the Nexus can be a nightmare! I won't go into all the functions and buttons the machine has, as you can check them yourself on the website. But I will say that the Target ID is excellent in an air test at home, but not so great in the fields, which you will find is also the case with most other machines. I use the machine with Meter ID and Sound, left out is ferrous, and right on the meter is non ferrous. In a home air test with a roman coin around the 1.7cm in diameter, the detector identified it perfectly, the needle of the meter was to the right showing non ferrous. But in the field, the Target ID bounced from left to right - ferreous or nonferrous. I have learned over time to be able to pick out the erradic needle movement and dig these signals without passing them by - this is what I was saying previously regarding needing many hours to understand the machine. Once you learnt the machine, it cannot be matched for finding small coins at depths, based on the size of the coil! All I can say is that if you want a turn-on-and-go type of machine, then buy a Garrett 250 which I also use for some mountain detecting. If you want to do serious detecting, then try Nexus, you won't be dissapointed. After all, if you find it's too much grief, put it up for sale. All the best!
May 24, 2009
99 people found Gooch's review helpful.