Nexus Coronado SGE Reviews, Price and Specifications
Deep Seeking Land Metal Detector
Retail Price: $1,499.00 (£749.00)
Number of Reviews: 1
Avg. Rating (5.0 Stars)

Email to a friend.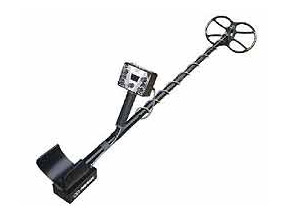 Specifications:
Non Motion detector with fast autotune
Gold dual 6" search coil tuned at 18 kHz +/- 0.5
Silver dual search coil tuned at 8.5 kHz +/- 0.5
Hoard dual 6" search coil tuned at 5.1 kHz +/- 0.5
Gold dual 4" search coil tuned at 7.3 kHz +/- 0.5
Five easy to operate knobs control: Power on/off-volume, Threshold, Sensitivity, Ground Balance, Accept/Reject Discrimination
Variable Voltage Controlled Oscillator (VCO)
2 search modes
All Metal meter ID
Standart Coronado Silver SGE search coil tuned at 7.7 kHz with higher sensitivity
Total System sensitivity 20% higher than Nexus Coronado
Batteries: 10 AA alkaline batteries
Battery Life: 45 hours
Manual Ground Balance
Telescopic Glass Fibre stem with scratch and ware resistant gloss paint and locking pin
ABS Glass Fibre resin potted search coil
Headphone socket
Weight: 1.3kg (2.6 lbs)
very good depth capabilities,not just on large objects but single coins
The Nexus works best on pasture,woodland and most other level ground,excluding the beach.
Nothing Extraordinary
Peter in SUSSEX ENGLAND -

I purchased this machine quite some time ago and used it four or five times. The toggle switch broke off after a couple of trips out. I replced it myself.The logo on the search coil peeled off.
The detection depth was no deeper than other machines I have used. The body needs to be a bit more robust.
This detector is simple to use, but other than that, it is disappointing. I sold it.
Jan 15, 2011
38 people found Peter's review helpful.