White's MXT Reviews, Price and Specifications
All-Purpose Land Metal Detector
Retail Price: $799.95
Number of Reviews: 3
Avg. Rating (5.0 Stars)

Email to a friend.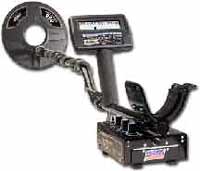 Specifications:
3 complete separate programs
Automatic battery check
Low battery alert
Overload alert
Depth reading
Relic Mode: Specifically ID's buttons, buckles and bullets
Prospecting Mode
Each operating mode contains optional search and discriminate methods
Automatic Ground Balance (From mountain minerals to salt water)
3 easy-adjust controls
GAIN maximizes sensitivity and depth
THRESHOLD allows you to hunt with a slight hum or hear only the sound of detected targets
DUAL control fine tunes discrimination in the Coin and Jewelry and Relic programs
Operating frequency- 14 kHz
Drop-in Battery Pack (40-hour operation from 8 "AA" batteries)
Nicad Rechargeable system available
Waterproof Eclipse 950 9" search coil
Optional Eclipse accessory search coils available
Best for the Money
Bill in Michigan -

Actually, I think the MXT will match my Minelab SE in most every way for about 75% of the cost. The 950 coil needs to be replaced with a DD coil, and you will be up there with the BIG boys. This detector is lightweight and great for hunting angled curbs and rough terrain. Purchased the electronic pinpointer and wired it in... This was a mistake as they do not "handshake" well to get good depth for the pinpointer. Otherwise... magnificent all around detector. I'd take it over most others. And I have had them all.
Nov 19, 2009
24 people found Bill's review helpful.
A Coin Monster
Chris in La Verne, CA USA -

I have had this machine for about 3 weeks now and have found nearly 1/4 the value back in coins at the beach and various parks and schools. It chatters a lot, but once you get used to the sounds and what to dig and what not to dig, you will be pleasantly surprised.
Jun 02, 2009
9 people found Chris's review helpful.
I Will Never Put It Down!
Michael in Connecticut, USA -

I have had the White's MXT for close to 2 years now, and I do believe that buying this machine was the best decision I made. This detector is very easy to learn, and once you do get the hang of it, the possibilities are endless. In my opinion the MXT is one of the better all-around machines on the market today. There are some people out there who absoluteley hate this machine for some reason, I guess it's just not their cup of tea? From time to time, I take out my Troy Shadow X-5 for a day, but that machine has yet to prove to me that I need to be using it more than the MXT. Not saying the X-5 is bad, just as of now the MXT is my everyday machine.
Apr 21, 2008
47 people found Michael's review helpful.