Shark Marine Stealth 2 ROV Reviews, Price and Specifications
Underwater Remotely Operated Vehicle
Retail Price (in USD): $49,995.00
Number of Reviews: 1
Avg. Rating (5.0 Stars)

Email to a friend.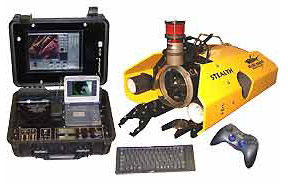 Specifications:
Vehicle Dimensions: 30" x 22" x 18.5 incl. handle
Vehicle Weight: 90 lbs. (40 kg)
Controller Dimensions: 21" x 18" x 9"
Controller Weight: 44 lb. (20kg) (Including Hand Control)
Hand Control Dimensions: 7.5 x 7.5" x 3"
Hand Control Weight: 4 lbs. (1.8 kg)
Hand Control Cable length: 15 ft. Standard (longer optional)
Urethane Jacket with TPR floatation jacket, 1000 lbs. minimum Breaking load
Neutral Umbilical Size: 0.53" diameter (12.7 mm)
Neutral Umbilical Length: 500 ft. Standard (up to 2000 ft. optional)
Neutral Umbilical Weight: 52 lbs. per 500 ft. (20 kg per 150 m), Dry Weight
Horizontal Thrusters: 2 each, 1/3 Horsepower
Vertical Thrusters: 2 each, 1/3 Horsepower
Lighting: 2 each 150 watt quartz - Variable control
Camera: High resolution Colour 450 TV line (others optional)
Camera Motion: 180 degrees viewable (pan optional)
On Screen Display: Depth, Heading, Date, Time, Title (Others optional)
Scanning Sonar: Pre-wired for Plug and Play (Sonar optional)
Depth Rating: 1000 feet (300 m)
The Stealth2 Remotely Operated Vehicle is one of the most versatile ROVs on the market today. The Shark Marine Stealth ROV maintains the adaptability and options of larger system in a smaller, highly portable size.
The Stealth ROV comes plug and play ready for such options as scanning sonar, manipulator arm, sub-bottom profiler, and total positioning system. The size and weight of this ROV system allows for operation from even small boats or inflatables. The system is even portable enough to fly on small aircraft in to remote locations.
Base Stealth2 ROV including high-res colour camera with pan and tilt - $49,995
500 foot umbilical, topside computer controller with ability to process
additional PC based options, 10.6" daylight readable screen, built-in DV recording deck with 4" LCD, USB out, jpg / mpeg capture, wireless remote control, basic spares kit.
Options Price List (in USD):
Optional, Replace Colour Camera with Ultra low light B&W, .0003 lux. - $1,755
Optional Dual Cameras, High Res. Colour And Ultra Low Light B&W - $2,455
Optional Manipulator (single function) - $2,635
Optional Manipulator (dual function) - $5,330
Comprehensive Spare parts kit - $6,600
Spare thruster assembled and tested - $2,750
Laser scaling unit (2 laser system) includes cabling and control - $3,190
Shipping and Storage case for vehicle - $835
System shipping case for vehicle, cable, topside and spares - $1,865
Additional 500 feet of umbilical for total of 1000 feet. - $4,125
Longer than 1000' requires video enhancement option - $2,200
1124 Cable reel, manual drive with slipring - $4,235
1124 Reel as above but with hp drive motor (other options available) - $7,855
852 mini-scanning sonar for ROV positioning - $7,445
881 Scanning sonar for target locating, measuring and positioning - $16,945
P450 Multibeam Imaging Sonar, target locating, inspection - $28,255
P900 Multibeam Imaging Sonar, target locating, detailed inspection - $31,395
Pan / tilt mount for inspection sonars - $9,995
DF1030 Sub-bottom profiler with Stealth mounting frame - $31,395
Metal thickness gauge - 1600' rating - $7,945
Sediment Core sampler unit - $29,925
Many other sonars and sensors are available depending on customer application
Training at our facilities in St. Catharines (2 days) $ N/C
Training at customer facility (Varies with costs incurred)
Other options available include:
Tracking systems - LBL, SBL, USBL
Enhanced Thruster Package
Deep diving option
Digital still camera packages
Hull scanning and security configuration
Hitch mounted launch/retrieval system
Custom designed features
I Should Read Instructions Before Buying It!!!
Celticarssh*t in uk -

I got this for Christmas. I got up at 4 o'clock on Christmas day, opened this beast of a machine, shot my clothes on, went out, drove 4 hours, got out the car, put it down ...it would not move! So I checked it all then started reading the instructions... Silly me, I only put it in the field! I did not know it was made for water... [Hello?...]
Jan 23, 2012
7 people found Celticarssh*t's review helpful.