Shark Marine SDM-4000 Reviews, Price and Specifications
Underwater Digital Magnetometer
Retail Price: $10,000.00
Number of Reviews: 0
Be the first to review this item
Email to a friend.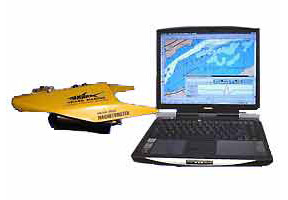 Specifications:
Towfish Construction: Molded Polyethylene, acetyl, and stainless steel
Ballast: internal weights and depressor wing design
Balance: Adjustable by moving the tow yoke
Sensor: 3 axis Digital magmetoresistive
Range: +/- 1 G
Sensitivity: better than 6.7nT
Towfish Depth: 1200 metre (4000 feet) Maximum
Power: 12 Volts DC at 500 mA
Communication: RS-485 serial interface
Software: Included for Windows 95/98/ME/XP/2000
Dimensions: 33 cm (13") long X 19 cm (7.5") W X 14 cm (5.5") H
Cable: 7mm (.3") diameter x 45m (150ft) standard, up to 1200 m (4000ft) optional, 450 kg (1000) lb breaking strength
Weight: Towfish: 2.25 kg (5 lb.)
Standard Cable: 6 kg/100m (4lb./100ft.)
Computer: Pentium 100MHz or better (not included)
Options: 60 m (200ft) tow cable, USB to Serial converter, Tow Clamp, PCMCIA to serial converter, GPS units, Travel and storage Cases, RS-485 to RS-232 converter
Specifically designed for anomaly detection, the SDM-4000 is the perfect economical tool for locating ferrous metal objects, on bottom, or buried. This magnetometer is depth rated to 4000 ft. and will operate with cable lengths up to 4000 ft. The depressor wing design uses the forward motion of the boat to keep the tow fish down. This saves on the amount of cable required to reach a certain depth.