Shark Marine Yellow Fin Side-scan Sonar Reviews, Price and Specifications
Boat-Towed Side-scan Sonar
Retail Price: $9,000.00
Number of Reviews: 0
Be the first to review this item
Email to a friend.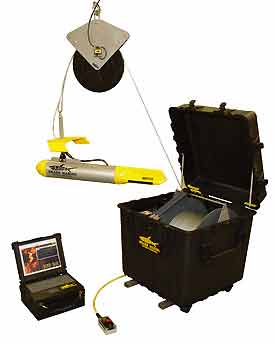 Specifications:
3 Operational Frequencies
Towfish Construction: Molded Polyurethane and anodized aluminum
Ballast: Standard diver belt weights (available at dive stores)
Balance: By moving the tow yoke to a balance point
Towfish Depth: 300 metres (1000 ft)
Containerized Tether Management System
Range: 1000 meters (3000 ft) of cable in a ship-able package
High Resolution
Power: 12 Volts DC at 500 mA
Communication: RS-232C serial interface
Computer: Pentium 100MHz or better (not included)
Display Colours: Colour, Grayscale, Reverse Grey, Yellow/Brown
A deep water version of the 'Sport Scan' side scan sonar system. The deep water system YellowFin is depth rated to 300 meter.