Shark Marine SportScan Side-scan Sonar Reviews, Price and Specifications
Underwater Side-scan Sonar
Retail Price: $8,000.00
Number of Reviews: 1
Avg. Rating (3.0 Stars)

Email to a friend.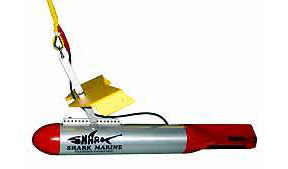 Specifications:
Towfish Construction: Molded Polyurethane and anodized aluminum
Ballast: Standard diver belt weights (available at dive stores)
Balance: By moving the tow yoke to a balance point
Single Frequency: 2x330 kHz -Beam 1.8x60
Dual Frequency: 2x330kHz -Beam 1.8x60, 2x800 kHz - Beam .7 x 30
Range: 15,30,60,90,120 metre (50,100,200,300,400 feet)
Towfish Depth: 30 metre (100 feet) Maximum
Power: 12 Volts DC at 500 mA
Communication: RS-232C serial interface
Software: Included for Windows 95/98/ME/XP/2000
Dimensions: 11.4 cm (4.5") diameter X 83.3 cm (32.8") long
Cable: 7mm (.3") diameter x 22.8m (75ft) standard, 60 m (200ft) optional. 45 kg (1000) lb break strength
Towfish Weight: 4.5 kg (10 lb.) without weights
Standard Cable Weight: 1.7 kg (3.8lb.)
Computer: Pentium 100MHz or better (not included)
Display Colours: Colour, Grayscale, Reverse Grey, Yellow/Brown
Options: 60 m (200ft) tow cable, USB to Serial converter, Tow Clamp, PCMCIA to serial converter, GPS units, Travel and storage Cases
Easily To Handle
Priyantha Jinadasa in Sri Lanka -

I have experience with this system. It is portable and handled easily. It is good for shallow water surveys like habitat mapping and shipwreck surveys.
Sep 30, 2010
3 people found Priyantha Jinadasa's review helpful.