Laser Hawkeye Reviews, Price and Specifications
All-Purpose Land Metal Detector
Retail Price: $1,199.00 (£599.00)
Number of Reviews: 6
Avg. Rating (4.3 Stars)

Email to a friend.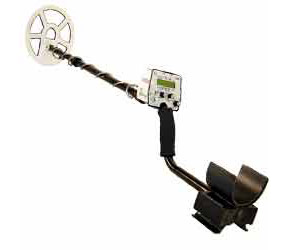 Specifications:
Microprocessor Control
Digital Target ID Eight segment bar graph
Low noise circuitry
Silent search Disc mode
Three piece stem
Meter light
Switch on and GO operation
Drop in battery packs
Built in mineral rejection
Two digit ID number
1/4 inch headphone jack
Length: 39" - 51" (adjustable)
Weight: 1.42 kg (3.1lbs)
Frequency: 10 kHz
Battery Type: 8 x AA batteries
Warranty: 1 year
Dissapointed!
Hammy Hunter in uk -

Well, what can I say, overrated is an understatement. It feels cheap and goes mental on trashy sites, rubbish on wet sand.
I really just couldn't get on with the Hawkeye. I phoned a well known internet metal detector dealer, and he also said that it was overrated, and I would be better off with a Euro Ace. I didn't go for that machine instead I got an XP Goldmaxx Power and I can't fault it.
Nov 19, 2014
3 people found Hammy Hunter's review helpful.
Perfect Buy
Hunter H in devon uk -

I upgraded from the Garrett Ace 250 which is a good machine but is fooled by iron and tin objects.
The Laser Hawkeye is not fooled by the junk which means less digging on trash and more time digging the good stuff. I can't recommend this machine highly enough it really is the dogs nutz. Get one second hand for 300 quid and you will have a belting machine.
Aug 11, 2014
6 people found Hunter H 's review helpful.
Laser Hawkeye Review
Edward Jenkins in Lancaster -

Buy one now before Laser stop making them, rebrand it, and charge another two hundred for it. It's a belter of a machine, I love it and believe me I have owned a few different types of machines from big priced manufacturers and the Hawkeye is up there with the two grand models. If you don't believe me, try one out at a rally against the big boys and you will see for yourself.
Nov 06, 2012
14 people found Edward Jenkins's review helpful.
Laser Hawkeye Review
Big Edddie in Oxford. UK -

Can't speak highly enough about this machine. People say it is too deep for them, well for me that's where all the goodies are. I know because I have found good old silver in trashy sites as the discrimination and depth on this beast are brilliant. I have used three different Minelabs models,not want to be discriminatory for legal reasons ,however the Laser Hawkeye has out performed them easily and is a lot simpler to use than them. I also used a White's XLT and found that the Hawkeye was far deeper and more accurate at pinpointing and identifying the targets. The Hawkeye is for me and my mate who has just bought one from ebay for only £320.00 is by far the most underated machine on the British market. Get one and you will not be disapointed.
Oct 09, 2012
9 people found Big Edddie's review helpful.
The Laser Hawkeye Eyes the Deep Goodies All the Way
Gerard Grant in Scotland. -

The Laser hawkey is the best detector I have owned. I have owned a Garrett ace 250, Minelab Quattro and still have my Bounty Hunter Tracker IV which is also a belter of a detector for litttle money. The Laser Hawkeye is brilliant, up here in Scotland we have hot rocks, coke, iron stone all over the place. The Hawkeye gives a brilliant double beep signal that tells you right away it is coke or iron stone. The hawkeye is so deep it is unbelievable even on small bullets and tiny pieces of lead it will pick them out at over a foot into the ground. I found a victorian half penny the other day at just over a foot into the soil. I was well disapointed as I was hoping for a lot better after so much digging but, hey, it could have been a roman on another site. I have found loads with my Hawkeye from roman to medieval. I paid good money for it; although, I'm now glad I did as it is excellent build quality, batteries run forever, pinpointing is the best I've ever had, light is good when it's dulling down a bit, coil is easy to keep clean and overall build quality is robust. I run it on discriminate just above the iron and just below the foil. I find that is the best setting so far anyway. If the signal is spitty, and numbers fluctating on the display and jumping about, you know it's big or small iron 100% of the time. You can use the Laser Hawkeye on the beach, on ploughed fields and pastures, like I do most of the time. The one thing I don't understand about the Hawkeye is that there are hardly any reviews on it on the net. Every one I know that uses Minelabs or Technics all love my Hawkeye and have even offered me more money than I paid for it!!! Like the Bounty Hunter Tracker IV, the Laser Hawkeye is a well under rated and under marketed machine. It's like Glenfidduch whisky, everybody thinks it's the best because of the marketing while, in actual fact, Lagavaulin or Laphroig are 100% better, and you never hear about them in any magazine. I buy the magazines every month to look at finds, and you will see the same huge ads from the same big foreign companies every month in the same pages of the mags. It isn't any surprise that you don't hear or see much about detectors like the Laser Hawkey or Bounty Hunter Tracker IV because the companies don't have to promote them to sell them, as their reputation for consistant performance at find rallies and in general sells them anyway without the big fancy adds that I also fell for years ago. The GARRET 250 ACE was my first seriouse detector and I had great fun with it, build quality, display, long lasting cheap battery performance, good depth and pinpointing, brilliant "ding- ding" signal sound, all good. The only issue I had with the 250 was the recovery speed back to zero after it locates a target. Hope this helps. For me, reliability and excellent consistant performance is the Laser Hawkey all the way.
Jun 30, 2012
28 people found Gerard Grant's review helpful.
Lazer Hawkeye Is Better Than DFX
Harry Wood in uk -

You might think I'm mad, but I traded a Whites DFX for a Hawkeye! The DFX costs more, looks more impressive, and has dedicated web sites and cult followers, result... best thing I've ever done! The DFX is good, don't get me wrong, but the Hawkeye for me, and where I hunt, is better! I'm not your average detectorist, hunting for old stuff etc., I look for modern coins and jewelry! The Hawkeye will still find the old stuff of course, and with a very accurate meter and backlight, I can hunt anywhere, anytime, mainly for £1 coins! In the past few months, I've notched up enough chubbies (£1 coins) to pay for the hawkeye outright! The meter is in English, and it's always bang on! ID number 75 is my favourite, £1 coin! And the black LCD block always locks on solid underneath it! It has it all, ID numbers, depth readout, backlight, really good depth, and is 100% lighter than the Whites! Running on 8 AA battery set in holders at the rear (which last for ages by the way), makes it very well balanced! A nice large spider coil for covering a lot of area, and Iron Discrimination is second to none, will make this a firm favourite for its users I'm sure! Good hunting!
May 22, 2011
63 people found Harry Wood's review helpful.