Laser Rapier Reviews, Price and Specifications
All-Purpose Land Metal Detector
Retail Price: $749.00 (£370.00)
Number of Reviews: 2
Avg. Rating (5.0 Stars)

Email to a friend.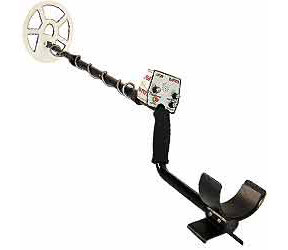 Specifications:
MicroMAX design
High gain sensitivity circiutry
Pushbutton pinpoint
Built in mineral rejection
Auto battery test
Silent search Disc mode
Switch on and GO operation
Three piece stem
Variable threshold
Length: 39" - 51" (adjustable)
Weight: 1.1 kg (2.4 lbs)
Frequency: 10 kHz
Operation: 1 x PP3 battery
Warranty: 1 year
Powered by 1x 9 volt battery
1/4 inch headphone jack
Seperate discrimination and sensitivity controls
Available with 9"x8" web coil
Rapier - Great Little Machine
Gordon Phillips in east devon,england -

After having owned a chinese cheapy, I was getting a bit cheesed off with lack of good finds, so my brother and kids chipped together and brought me a secondhand Laser Rapier. I haven't looked back.
In the past 6 months, my finds are 14 hammered from shortcross John to Elizabeth I, 18 milled silver from Charles II to Victoria, several hundred copper coins from cartwheels to post decimal, more than 200 musket balls, four 20 mm cannon shell cases, one 24kt 15th cent posey ring, 18kt gold band off walking stick, 18kt eternity ring minus stones, dozens of buckles, three roman bronze coins, three fob seals, the list of finds goes on and on. Not bad as I live in rural East Devon, and all these finds are within 2 miles of my house.
I find the Rapier is so easy to use being lightweight - one has no problem using it all day. My brother has a White's that he lets his wife use. But she struggles with its weight. Now having swung my Rapier, she is after one. So if anybody is looking for a good reliable and easy to use detector, this is the one. Just learn to read the sounds, if it's there the Rapier will find it.
I'm still a beginer but my brother who lives in Yorkshire and has been at it for years is getting a little depressed that my Rapier is finding more than his superdopper. So there it is, but if you get a chance at a Laser Rapier, grab it, and you won't regret it.
Jul 08, 2012
7 people found Gordon Phillips's review helpful.
Super Light and Simple
The Somerset Searcher in Somerset England -

I owned a Laser Rapier for 18 months or so. Overall I was very pleased because it's incredibly light, and, after 6 hours of detecting, I experienced no strain on the arm at all. Its 3-dial control box with pinpoint means real simplicity, and its depth was very reasonable with the standard coil. I regularly found very small items still giving a clear signal.
All Tesoro detectors have a good pedigree, and their reliability seems to be well established.
I would still be tempted to choose the C Scope CS3 MX and save myself quite a bit of money and have very similar performance.
Like so many detectors on the market now, the Rapier's control box appears very delicate. Be prepared to keep the control box cover in place when you are fiddling with the knobs with grotty hands !
Jan 31, 2011
14 people found The Somerset Searcher's review helpful.