Laser Scout Reviews, Price and Specifications
All-Purpose Land Metal Detector
Retail Price: $599.00 (£299.00)
Number of Reviews: 1
Avg. Rating (5.0 Stars)

Email to a friend.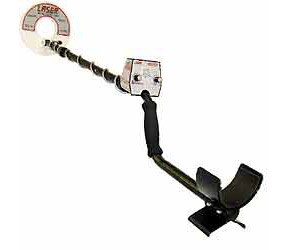 Specifications:
'Switch on and Go' motion detector
Sensitivity control
Fitted with 8" Polo coil as standard
Discrimination control
Silent Search All Metal and Discriminate modes
Built in mineral rejection
Drop in battery system
Accepts Accessory Coils
Length: 39" - 51" (adjustable)
Weight: 1.01 kg (2.2 lbs)
Frequency: 12 kHz
Operation: 1 x PP3 battery
Warranty: 1 year
3 piece stem
1/4 inch headphone jack
Simplicity
Harry Wood in teeside, england -

This detector is so easy to operate, a child can use it! So what can one say about the scout? It is light as a feather, so all day swinging, one pp3 lasts forever, and it even breaks into 3 pieces for travelling! Turn on, get your 5 second battery check to let you know it's a good battery, set sens to 8 or higher if conditions allow, set disc just past iron, and away you go! but dont be fooled! this little detector is deadly in the right enviroment! On tot lots, dry beach, pasture, the good stuff is a sharp crisp two way beep, bad stuff is ignored when disc is set just past 6/7 (foil, pull tabs, are blanked, and iron gives a crackling sound!) Obviously to hunt for gold rings, leave the disc at 3, and with 12 khz you'll miss nothing! You'll basically just have to dig all signals to get the good gear! A good example, I followed another coinshooter who was using a £1000 machine, and because of the superfast recovery speed of the scout, I was clearing up the coins he'd gone over and missed! He was shocked! This detector is now one of the favourites on the Thames foreshore! So, basically it's got it all: interchangeable coils, lightness, great battery time (1 x 9 volt) and super recovery speed! Get one folks, you wont be sorry! Happy hunting!
Mar 01, 2012
50 people found Harry Wood's review helpful.