White's DFX Reviews, Price and Specifications
All-Purpose Land Metal Detector
Retail Price: $1099.95
Number of Reviews: 5
Avg. Rating (4.4 Stars)

Email to a friend.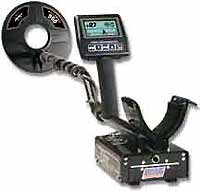 Specifications:
Multiple Frequency Operation: 3 kHz, 15 kHz, or use both frequencies simultaneously
Best Data displays the most reliable target info
Use Correlate to reject iron and other questionable targets
EEPROM Pro-designed hunting programs (Use these programs or erase them and create, name and store your own custom metal detector programs)
High-definition, extended temperature, back-lit display
DSF Signal Filtration (Change your ground filtering at will)
Sweep Speed Adjust
Hot Rock Rejection
Big, bold VDI numbers read out alongside target icons
White's exclusive Signagraph
9 Turn-on-and-Go! Programs
10 Basic Adjustments and 34 Pro Options
Auto Trac Speed
Complete visual display information
Display size is 2 7/8" x 1 5/8"
Automatic Ground Balance with AutoTrac
Waterproof 9" search coil
Slide-in Nicad Battery System (Up to 15 hrs. of power-packed metal detector hunting on a single charge. Backup penlight pack also included.)
100% satisfied for 16 years and going!
Robert Knudsen in Stockton California -

Ease-of-use and accuracy is fantastic! 160 gold rings, 350 silver rings and too much money to count!
Dec 11, 2017

Fantastic machine
Matt B in Westmoreland county, PA -

I found a DFX at a local pawn shop, was listed for $350, but was able to talk them down to $100! I couldn't pass it up. I use it for a back up machine. I've only taken it out about 5 times, but have found some great stuff. Including an 1854 seated half dime, several V nickels, Indian Head cents and a lot more. It's very accurate with Target ID and depth. Definitely a fun machine, would recommend for a backup detector for sure. People complain about the depth, but I have found smaller coins up to 7.5 inches. A lot of options, but I usually run the stock "Coin" and "Jewelry" modes and modify the settings from there.
Oct 14, 2017

AWESOME
Kevin Strahan in Natchez,Ms -

I have NEVER found soooo many coins with a detector in my life. This thing is a coin magnet and the VDI's on the coins are accurate.
Apr 17, 2013

Poor Depth
Bill in Michigan -

Having had 9 different detectors, I have a good idea how they operate. I found the DFX to be far inferior for the price in its depth capacity. I had $200 detectors go deeper than the DFX. Good Pinpoint and depth indicator, but poor depth. I traded it for a Minelab and could not be happier with everything but the depth meeter. Be careful! Also, you need an engineering degree to program this detector. Good Luck.
Nov 19, 2009

Coin Monster!
Frank Gooch in Carmel .NY -

Great machine for finding coins! If you do some minor tweaking of the preset coin mode, such as Preamp, AC, DC, and VDI Sensitivities, and Sweep Speed, this detector works well. Also using tone ID is great for identifying different coins. I have found thousands of coins with the DFX over the last 6 years. A little hard to get started and learn the ins and outs of this machine, but once you get the hang of it, you will love it!
Mar 24, 2008