XP GMaxx 2 Reviews, Price and Specifications
All-Purpose Land Metal Detector
Retail Price: $1,130.00 (£565.00)
Number of Reviews: 2
Avg. Rating (4.5 Stars)

Email to a friend.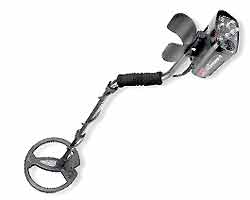 Specifications:
Operating frequency 4.6kHz
Improved sensitivity settings
9" Carbon fibre coil and cover
New versatile hipmount bag
3 Part shaft with twin collar locking system
Microprocessor analysis of signals
Multi tone discrimination in ALL METAL mode
Volume control for low tone (iron volume)
All metal: Motion mode
Silencer switch: 3 positions to limit iron false signals
Ground exlusion: adjustable
Perfectly balanced
Tough polypropylene arm cup
Fibreglass lower stem
Battery life Alkaline: 50 hours
Weight: 1.53kg (3.4lbs)
2 Year Warranty
A very professional and powerfull detector.
Ricardo in Everywere in portugal -

I think this is an excellent machine for every target with the size of a denarius and bigger. The GM II has got very good depth and it is very effective for large targets at depth.
It does not have very good sensitivity to thin coins as it is a low frequency machine.
Very easy to use and learn.
For Roman coins like sestercies it is fantastic!
Nov 09, 2014
0 people found Ricardo 's review helpful.
I Cannot Find Settings for XP Gold Maxx2
Metal Pete in england -

I bought this machine about 2 months ago and could not find settings for it on any of the forums, only other people asking for settings.
I went out last week to try my own settings, running the GMaxx2 in Auto, Ground - at 12 o'clock, Iron Volume on 4, Sensitivity as high as possible, Silencer on 1. I found 1 commonwealth silver penny, 5 King George coppers, 2 14c buckles, 2 musketballs, and 4 large buttons.
With these settings, it does not like small pewter buttons.
Feb 05, 2011
7 people found Metal Pete's review helpful.