XP ADX 250 Reviews, Price and Specifications
All-Purpose Land Metal Detector
Retail Price: $759.00 (€375.00)
Number of Reviews: 1
Avg. Rating (4.0 Stars)

Email to a friend.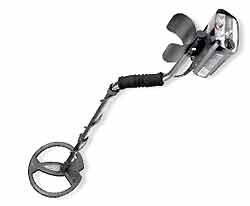 Specifications:
Improved sensitivity settings
9" Carbon fibre coil and cover
Versatile hipmount bag
Microprocessor analysis of signals
All metal: Motion mode
Light and perfectly balanced
Tough polypropylene arm cup
Fibreglass lower stem
Fitted with a 9" Wide scan DD waterproof coil
Battery life Alkaline: 50 hours
Coil cover and hipmount bag provided
Length: 44" - 53" (adjustable)
Weight: 1.5 kg (3.3lbs)
Frequency: 4.6 kHz
Operation: 8 x AA batteries
Warranty: 2 years
General Purpose Deep Machine
Roger Garnham in West London UK. -

I use this machine as a back up to my Gold Maxx Power. I found a hammered Lizzy sixpence first day out with it. I use it on disc 1 at maximumn disc. It is particularly good on pasture where things tend to be a little deeper. It is a very deep machine but does like large iron. You know when you have a good target as the signal is softer. It is not as sensitive as the GMP, but will not dissapoint. All in all, it is very capable.
Feb 09, 2012
28 people found Roger Garnham's review helpful.