XP ADX 100 Reviews, Price and Specifications
All-Purpose Land Metal Detector
Retail Price: $599.00 (£299.00)
Number of Reviews: 2
Avg. Rating (4.0 Stars)

Email to a friend.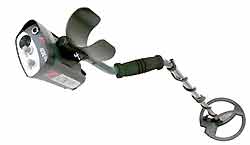 Specifications:
Wide Scan DD 9" waterproof coil, with coil cover
Very strong cable, to resist movement constraints
XP Connector, completely waterproof with gold contact
Light and robust ABS electronic control box
Hip-mountable - Hip-mount bag/control box cover included
Perfectly balanced
Very tough polypropylene armrest
3 piece stem
Fibre glass lower stem
Fitted with 9" DD waterproof coil
Now with removable coil
Length: 44" - 53" (adjustable)
Weight: 1.4kg (3lbs)
Frequency: 4.6 kHz
Operation: 8 x AA batteries
Warranty: 2 years
Ideal starter for the more serious user
Mixed blessing...
Brian in United Kingdom -

This machine has the standard XP shaft/control box set up. This means that to detect comfotably, the control box has to be rear mounted under the armrest which is not ideal for access to the controls. It's the lowest priced detector in the range but still offers fairly good land performance though I would suggest you look a model up the range at the XP 200. For a little more money you gain a useful bit in ground depth. If you are in a bad ground area, you will feel the lack of a ground balance control. The plus of the 100 over the more expensive models in the range, whether high or low frequency, is that it will work better than them on the wet salt which is not XP's strong point. "Will work" - this does not mean work well. If you have used dual frequency, multifrequency or pulse detector, you will find the wet sand performance distinctly disappointing. On my local beach that contains a range of items from all periods, by the time the positive salt effect has been tuned out, small and thin items such as hammered silver coins cannot be located. If you are serious about beach detecting, then buy a beach machine. This then gives you the opportunity to buy a land machine that provides more performance in its own field of excellence. As this model is now discontinued, you may be able to pick one up cheap, and its reliability and long battery life does mean it's excellent to keep in the back of your car so you always have a detector at hand. When it came out, it offered good performance in its price range but new offerings from the major manufacturers have overtaken this model, so price really is the key.
Oct 26, 2009
8 people found Brian's review helpful.
Beach Baby!
Pete in United Kingdom -

I have had my ADX 100 for two years now, on land it is very good. Discrimination is a fine art but if you get it right you won't be digging rubbish. It picks up EVERYTHING metallic when disc is off, so test it with some different items first. My favourite disc setting is no more than number four. It does give the occasional 'good' signal when disc is set to four, and you start to dig... and dig and dig! ... And usually its a large chunk of old iron !!! If you are lucky enough to get a 'double knock' which is two 'beeps'on the first pass and two on the return stroke, it is guaranteed to be worth digging every time. (mine so far have all been coins) I was told by the seller that "no detector is any real use on a beach." Rubbish! The ADX 100 is awesome on the beach! You do have to adjust the disc and sensitivity to the degree of salination (salt to water concentration) which can vary with each tide, but you will come up trumps every trip. This is an awesome machine which I would prefer on the beach over my Tesoro Cibola. Wherever you detect, learn to listen for a 'full' or 'clean' signal, not clipped or spitting signals, the ADX is a very very good machine! Happy hunting!
Jan 26, 2009
41 people found Pete's review helpful.