Viking VK30 Reviews, Price and Specifications
All-Purpose Land Metal Detector
Retail Price: £199.00 ($399.00)
Number of Reviews: 3
Avg. Rating (5.0 Stars)

Email to a friend.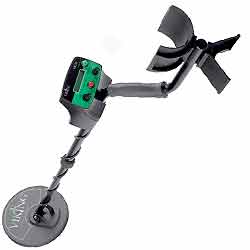 Specifications:
Motion / Non-Motion detection modes
Sensitivity and Discrimination controls
16 x 1 LCD with Target ID
Inland / Beach toggle pushbutton
Pinpoint Pushbutton
Waterproof 20.5 cm (8") Search Head
Battery Check
Length: 45" - 51" (adjustable)
Weight: 1.45 kg (3.2lbs)
Operation: 1 x 9v PP3 battery
Warranty: 2 Years
A land and Beach suitable motion detector, with the addition of a pinpoint button for accurate location of target signals in non motion mode.
Oldie but goldie
Rick in England, Northants -

I recently acquired the prior vk30 model to the one shown in the image here, for a snip... £20. It had sat in a farmer's barn for years, covered in dust and bird droppings... A swift clean revealed a very very tidy detector, popped in a battery and away she went. I dragged her to my test bed, where I have a collection of coins and scrap buried. I've had a few detectors, Garretts, other Vikings, and currently a Tejon and a Cortes, run the test bed with mixed results. As you may expect the Tesoros hit hard and well, finding coins buried with iron nails and so forth, this Viking nailed the deepest coin, an on its end modern 20p at 10 - 11 inches with no problem, a solid clear target. My old Garrett 250 with the 9x12 barely registered it. It sadly failed to find the coins with iron nails due to iron masking... many would, but nevertheless I was hugely impressed with its performance. Recovery time isn't hugely fast, but adequate, discrimination works a treat, with no farts or whistles you find in other machines when running over discrim hits, and a clear numerical indication of the targets conductance on the neat display of desired objects. Pinpoint flips the detector into All Metal and works well. The Viking vk30 also has a beach mode, which I will be trying in a few weeks. If you can put up with the threshold tone and hunt in All Metal, the depths I air-tested the unit with are immense. My smallest silver hammered coin registered around 16 inches or more, a large king George further still. You would be doing a lot of digging in All Metal though! At the price new, these are a great buy, second hand they seem to be given away... if you spot one, get it, great as a spare or one to leave in your boot for when you spot an impromptu site to explore.
May 03, 2017
3 people found Rick's review helpful.
Great Value for Money
Hoard Hunter in Surrey u.k -

I couldn't agree more with the previous review. I own the vk40 which is the same unit with a larger concentric coil rather than DD. I love it! I am leaving this review as there is a distinct lack of feedback on the net about this brand, when researching I took the plunge despite mixed reviews and I'm so pleased I did. C-Scopes are also worth considering. Good honest machines without bells and whistles which I adore on my mobile phone but I don't feel are necessary on a detector. This does what it promises very well for the price.
Jan 11, 2015
4 people found Hoard Hunter's review helpful.
Viking VK30 Takes on tough searches with ease.
kb in Midwest-USA -

The Viking VK30 is a substantial machine with two modes of operation. It has both a motion mode and a non-motion mode. You just turn it on in no-motion mode and pull it or drag or swing it across the ground till you get a hit and a target id number. If you push on the "Pinpoint" button, it will be in motion mode to verify target id till you release the button. And if it is in motion mode, it would be in non-motion when you push on and hold the "Pinpoint" button for final target id and location. The motion mode has a fully adjustable discrimination capability. However, I use it on zero discrimination and when I get tired of iron target noise, I just push on the "Beach" button, and all iron is then ignored. It has an easy to read LCD display and an 8 inch Double-D search coil which works well in mineralized hot rock soil. It works with 1 nine volt battery (very light). I went back to an area which had been previously searched with other detectors, and where iron targets drove other detectors nuts. The VK30 with iron off ("Beach" mode) still indicated a good target, and it was a buffalo nickel. Very nice! The Viking VK30 is very light, so you can use it all day long. They could have made the adjustable shaft 6 inches longer, but other than that, I like the machine both in price and functions. It has but one hardwired coil 8 inch DD which works very well. It came with a battery and a coil cover. For the $295 sale price, you get a lot of machine for the money: lcd, dd coil, beach mode, motion mode, and non-motion mode. As I get tired, my swing speed decays, but that's when I use the non-motion mode which does not care at what speed you drag the coil to a target. I bought mine online since I live in the USA. This detector works great for either a beginner or an old hand. Both will find this machine very useful. This is my first Viking detector and I like it a lot.
Dec 08, 2012
20 people found kb's review helpful.