Viking VK10 Reviews, Price and Specifications
All-Purpose Land Metal Detector
Retail Price: £129.00 ($259.00)
Number of Reviews: 0
Be the first to review this item
Email to a friend.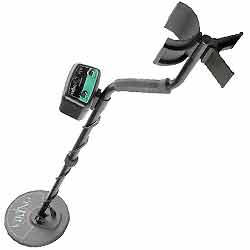 Specifications:
Motion Detector
Sensitivity Control
Discrimination Control
Operates from single PP3 battery
Waterproof 20.5 cm (8") Search coil
Length: 45" - 51" (adjustable)
Weight: 1.36 kg (3lbs)
Operation: 1 x 9v PP3 battery
Warranty: 2 Years
The simplest Motion detector in the Viking range. Two controls for sensitivity and discrimination. Automatically tuned.