Viking V5 Reviews, Price and Specifications
All-Purpose Land Metal Detector
Retail Price: £89.00 ($179.00)
Number of Reviews: 2
Avg. Rating (4.5 Stars)

Email to a friend.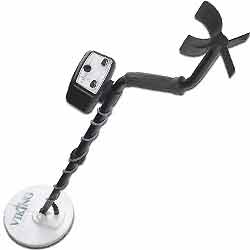 Specifications:
Non-Motion Detector
Two Simple Tuning Controls
Built-in Loudspeaker
Headphone Socket
Telescopic Shaft
Waterproof 20.5 cm (8") Search Head
20 Hours Use From Single PP3 Battery
Length: 45" - 51" (Adjustable)
Weight: 1.05 kg (2.3lbs)
Operation: 1 x 9v PP3 battery
Warranty: 2 Years
Suitable for use both inland or on the beach
Viking Cult Machine
Sandgrounder in UK -

I like the V5 and would tell others to buy one. I believe the new circuits are better too in V5 because they can be replaced, whereas the older ones are harder to access. I have found lots of coins with mine. The robust V5 does seem to have a cult-like following.
Mar 14, 2011
13 people found Sandgrounder 's review helpful.
Great for the Beach!
Vince in Cleveland United Kingdom -

I bought this detector because of its simplicity: it automatically cuts out nails and pull tabs.
On the beach, it came into its own. Other detector users were finding nothing with their expensive units, but I came home with a pocket full of coins. After all, isn't that what it's all about?
Don't be put off by the cheap price. You are buying quality. I've had White's Arado, C Scope, Garrett, etc., but I'll keep my Viking V5. Thank you!
Jan 11, 2011
45 people found Vince's review helpful.