C Scope CS 1M Reviews, Price and Specifications
All-Purpose Land Metal Detector
Retail Price: $299.00 (£149.00)
Number of Reviews: 2
Avg. Rating (5.0 Stars)

Email to a friend.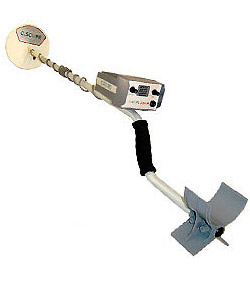 Specifications:
Length: 42" - 54" (adjustable)
Weight: 1.3 kg (2.86lbs)
Frequency: Motion 17 kHz
Operation: 2 X PP3 batteries
Warranty: 2 years
Automatic re-tune
20cm ISOCON search coil
Variable junk discrimination
All metal mode
Twistlock stem adjust
Lightweight balanced design
Loudspeaker
Entry Level Motion Machine
Old Machine but Brilliant
Silver Hound in essex -

This detector is very sensitive, very deep ,very under-estimated , and much better than at least 50 percent of dearer machines out there.
Jul 24, 2016
1 people found Silver Hound's review helpful.
Very Very Under Rated
Essex Digger in essex uk -

Don't be fooled by the age of this machine. It's a deep, very sensitive machine. I bought one off ebay for 30 pounds. Believe me, for normal land detecting, this is all you need, and a lot better than most. Believe me as I've had LOADS of machines!!!
Mar 02, 2016
0 people found Essex Digger's review helpful.