C Scope CS 770 XD Reviews, Price and Specifications
All-Purpose Land Metal Detector
Retail Price: $259.00 (£129.00)
Number of Reviews: 1
Avg. Rating (5.0 Stars)

Email to a friend.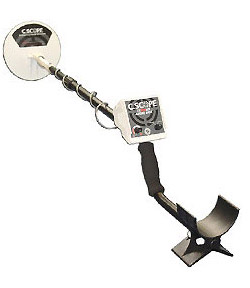 Specifications:
Switch on and start detecting
High and low tones help identify type of target
Operating System: Non-motion 17kHz
Search coil: 20cm ISOCON search head
Battery Power: 1 x PP3 (MN1604, 6LR61)
Weight: 1.153Kg (2.5lbs)
On/Off control, inland/beach selection switch, Retune button
Audio Discrimination
Adjustable stem length
Counterbalanced stem with armrest
Headphone socket
Ideal For: Beginners on inland or beach sites
Good Old C Scope
Gold Digger in essex uk -

This is a very good non-motion detector, very deep when set on the inland mode, works great on wet sand. This machine would be great for field walking, does really go very deep, i.e. 12 to 15 inches on a gold ring, growls on non ferrous, screams on good targets. If in doubt of what target is, just place the head on the ground, press the retune button a bit, but the rewards out-weigh the cons. All in all, quite surprised by this fairly cheap machine.
Jul 10, 2015
14 people found Gold Digger's review helpful.