White's 6000 Pro XL Reviews, Price and Specifications
All-Purpose Land Metal Detector
Retail Price: $ 699.95
Number of Reviews: 1
Avg. Rating (5.0 Stars)

Email to a friend.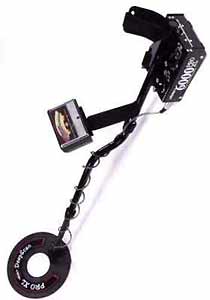 Specifications:
Preset control settings
Discriminate control adjusts the level of trash you reject
Tuner control selects the optimum threshold
Signal Balance control
9 1/2" Pro XL loop - Accepts all Blue Max loops
Power Supply: Slide-in "AA" battery system. Optional rechargeable Nicad system
Trigger Switch alternates between hunting modes, reads depth, and retunes
Large Meter I.D.'s target and reads depth when you flip the trigger
4 HUNTING MODES for all TYPES OF DETECTING- GEB/DISC, GEB/NORM, TR/DISC, GEB/S.A.T
On-the-box instructions
One of the best multi use detectors
Mark Sanders in Vacaville, CA USA -

I have owned many detectors over the years, and this one is and has been my favorite by far. As an all around detector, it would be hard to beat. The only downside is that it takes some practice to get it dialed in and may be discouraging to a novice user. It does have factory settings marked next to the control knobs that make it easy for a beginner but once you learn how to adjust it you can really get deep and accurate readings. Digital machines may be more user friendly but I think you can get finer tuning from the analogs.
Jul 22, 2013
21 people found Mark Sanders's review helpful.