C Scope CS 6PI Reviews, Price and Specifications
All-Purpose Land Pulse Metal Detector
Retail Price: $659.00 (£329.00)
Number of Reviews: 1
Avg. Rating (4.0 Stars)

Email to a friend.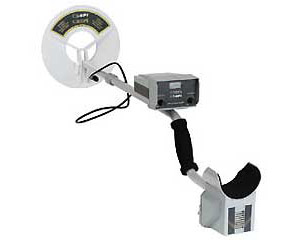 Specifications:
Fast response MOTION PI system
Optimum 25cm SUPERLITE open centre search coil
Automatic operation
Sensitivity control
Pulse frequency control
Clear view signal intensity meter
Battery condition indicator
Moisture and dust resistant
Built-in loudspeaker, headphone socket and charger socket
Perfect balance, rugged, lightweight
The CS 6PI is a superb choice for beaches and sites with difficult ground conditions, relic hunting or any application where discrimination is not of any importance.
No Fuss Pulse Induction
Jim in Suffolk, England. -

No longer in production this machine was designed by Eric Foster. It is low-powered by pulse induction standards but has good depth all the same: similar to a pretty good VLF. Battery life is good and the coil is especially light. The machine suffers from ground effect inland and on the beach but a slight tweak of the frequency control will deal with this. The machine can be swept quickly without losing depth and this is a great advantage over some of the older types of pulse machine. If you can be bothered with the digging that comes from no discrimination you can make good finds inland with the 6PI. Good, honest machine. A little more power and this would be a fantastic detector.


Jul 07, 2008
83 people found Jim's review helpful.