C Scope CS 3MX Reviews, Price and Specifications
All-Purpose Land Metal Detector
Retail Price: $425.00 (£208.99)
Number of Reviews: 21
Avg. Rating (4.7 Stars)

Email to a friend.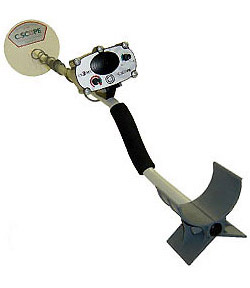 Specifications:
Discrimination control with 'All Metal' position
Pin-point mode (Non-motion, all metal)
Belt mountable
Highly tuned electronics
Adjustable stem length
Counterbalanced stem with armrest
Automatic motion retune
Headphone socket
Weatherproof design
Operating Frequency: 17kHz
Search coil: 20cm ISOCON search head
Battery Power: 8 x AA 1.5 volt
Weight: 2.1Kg (4.2lbs)
Ideal For: Professional and amateur, serious beginners, inland use
Is Advertisement False?
Glenn Wright in Derbyshire England -

I do not own this machine but recommended after reading reviews on this site. My friend did not have a big budget and was a beginner. She joined our club and seemed unhappy with her machine. l felt a bit sad because she bought it on my recommendation. So I set up a depth test with a hammered coin, increasing the depth to seven and a half inch, and the machine picked it up clearly. During this test, two friends joined in with their Deus machines. We increased the depth of the penny to eight inch, and all machines got it but just. I used a Goldmaxx Power which was the same. Draw your own conclusions from this. But there is a thousand pounds difference between these machines. Are we being fooled by advertising?
Jan 16, 2018
0 people found Glenn Wright's review helpful.
No Nonsense
Coin Puller in uk england -

It's simple and effective, no total waste of time id screens, when half the targets are masked any way, no long programs, quickest response time I have ever seen. It's a deep seeking hound on tiny items.
May 11, 2017
1 people found Coin Puller's review helpful.
Excellent Machine
A Finder in england -

good deep, sensitive, machine, don't know why but seems to go deeper than c scope 3 mx, and seems to discrim better, had both machines, and prefer 3 mx, although both are great.
Feb 02, 2015
3 people found A Finder's review helpful.
Superb Machine
A Blue in hull uk -

I have used many detectors over the years, and wasted a lot of time and money. I love this machine, tone crisp, great depth on small objects, build quality - second to none, 17 kHz can run at 20 kHz with small adjustment, rapid response time. Well done C Scope, what a belter this one. Keep making please. Be it the CS 3MXi.
Jan 09, 2015
5 people found A Blue's review helpful.
Simple and Superb
Neil in Redditch,worcestershire -

Firstly let me start by correcting some of the more negative points from earlier reviews. An earlier reviewer stated that the cs3 would not detect an old penny at 30cm in air... this is untrue. My machine would do this with the sensitivity set just under threshold and the discrim set to 3. Another reviewer said there was no depth and the machine was no good on small coins... again untrue. I've had great depth from my machine, and it is really sensitive to smaller objects. I've had small silver coins at very surprising depths. Overall, this is a great detector, simplicity coupled with brilliant performance, set to become one of the true great detectors.
Dec 06, 2011
24 people found Neil's review helpful.
Simply Superb
Mike in South Wales, UK -

I have tried quite a few detectors: Minelabs, Whites, Garretts etc. And I always come back to my C-Scope. I have got to know the machine's abilities inside out with ease. It is very user friendly and does the job just like it says on the box- what more could you want from a detector?
My Minelab Explorer will not detect a coin when placed over a piece of iron. It just nulls. My CS3MX will detect it and it excels in trashy areas, especially parks etc. I just love the crisp, sharp bleep it gives when it discovers a buried coin. Pinpointing is spot on and it pays to use the de-tuning method either side of the target. Doing this, you can tell almost exactly how big it is and where it is.
What is the point in spending thousands on a machine when this one will do exactly what you want it to do.
If somebody is finding that theirs is sub-standard then there must be something wrong with that particular machine.
C-Scope's after sales service is superb however. Any problems and you can get on to them straight away on their Facebook page. Martin Bass will reply to you personally - without fail - and sort your problem for you. I recently snapped the locking nut on the stem, told them about it and they promptly sent me the replacement part along with detailed instructions free of charge.
Highly recommended!
Jul 26, 2011
28 people found Mike's review helpful.
The Real Deal
The Somerset Searcher in Somerst England -

After having owned a Laser Rapier, Viking V30, Garrett Ace 250 and many more other detectors, I gladly give the CS3MX "five stars". One thing that no one has mentioned is its build quality: it looks beefy and is made for the job, unlike a lot of £800 detectors which are very toy-like and fragile.
Its performance is definitely on a par with the Rapier, if you are prepared for the increase in weight with the CS3 MX.
Having tried a number of expensive high tech machines owned by friends, I have realized that the motto is "keep it simple!" Do you really want to spend 10 minutes fiddling with 6 computerised programmes before starting? Work on the principle "If it aint there, you aint gonna find it." If it is there, the CS3 MX will stand a very good chance of finding it, along with machines costing three times as much.

Jan 31, 2011
31 people found The Somerset Searcher's review helpful.
Pleasantly Surprised
A Middleton in Essex, U.K. -

Being new to detecting, I purchased this machine a few weeks ago. As I live on the Essex coast in the UK, I detect mainly on the beaches. As it was a "budget" machine (£220), I didn't expect it to be so good, but it is really powerful, and within ten minutes, I had found 2 x £1 coins in very damp sand at about 8 inches depth. The only downside appears to be the discriminator settings which seemed a bit of a joke - maybe I need to practice with it some more? The search coil fitted to my CS3MX is an "HiQ Waterproof".
Sep 15, 2010
6 people found A Middleton's review helpful.