OKM Grail Finder Reviews, Price and Specifications
Ground Penetrating Magnetometer/Scanner
Retail Price: $10,100.00
Number of Reviews: 2
Avg. Rating (3.5 Stars)

Email to a friend.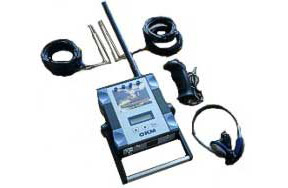 Specifications:
12V power supply
9,35 GHz scan frequency
Depths of up to 40m (geo-electric) and 18m (scan sensors)
Dimensions: approx. 170 x 200 x 65mm
Weight: approx. 1400g
Bluetooth Technology
New Technology
J.T. in France -

New technology, great results! I like this unit. I'm looking for tunnels.
Sep 12, 2008
12 people found J.T.'s review helpful.
Grailfinder for Finding Tombs
I. Panagiotis in Greece -

I'm the happy user of a Grailfinder which I bought in 2003. I have been mostly successful with this unit since then. Due to the integrated geo-electrical measurement method it is possible to locate hidden voids under the ground. The usage is very simple. In one working mode the 4 electrodes has to be put inside the soil, and the unit scans automatically the surface. The result you can see right away in the display of the device. This mode is for finding caves only. Another scan mode is the ground scanning, where you scan an area line by line and receive an image of the underground in 3d. In a specially designed software it's possible to determine position, size and depth of targets. In general the unit is very easy to operate and gives reliable results on the field.
Sep 09, 2008
20 people found I. Panagiotis's review helpful.