OKM Gems Gradiometer Reviews, Price and Specifications
Ground Penetrating Measuring Instrument
Retail Price: $5,150.00
Number of Reviews: 0
Be the first to review this item
Email to a friend.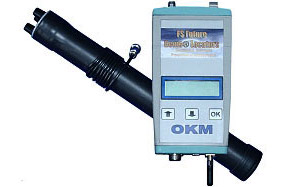 Specifications:
Dimensions: (H x W x D): 170mm x 90mm x 35mm
Weight: about 0,35kg
Voltage: 9 - 12 VDC
Processor: Motorola, 32 MHz
Data Memory (internal): 65.500 measured values
Operating Temperature: 0°C - 50°C
Storage Temperature: -20°C - 60°C
Air Humidity: 5% - 75%
Not Waterproof
Maximal Penetration Depth: about 8 meters
GEMS is a professional measuring instrument used to locate a number of buried and hidden objects made from metal such as boxes, pipes, storage tanks, chests, treasure boxes and underground cavities to a depth of 8 meters (about 26 feet).
Up to 65,000 measured values can be stored in the internal memory of the GEMS control box and transferred to a personal computer (PC) either immediately or at a later time for evaluation through the 3D Software program.
Because the GEMS is easy to handle and simple to use, GEMS should be of special interest for beginners and serious metal detector users.