OKM Cavefinder Reviews, Price and Specifications
Geo-Electronic Locator for Searching Caves
Retail Price: $2,910.00
Number of Reviews: 1
Avg. Rating (1.0 Stars)

Email to a friend.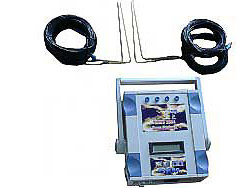 Specifications:
12V power supply
Depths of up to 18m
Dimensions: approx. 170 x 200 x 65mm
Weight: approx. 1500g
Carrying case
Charger for control unit
Control unit
4 Electrode with cable ( 20m )
Doesn't Work
Steve in NV USA -

I have a Cavefinder B, got unreliable results. Sent it back to Germany, and now the results are at least consistent but unknown how accurate. The Visualizer 3D program seems to be a $2500 waste of money! Always shows the same image no matter what was surveyed. Gives no useful information as to depth, size, configuration, etc., of voids. I haven't been able to verify the value of the Cavefinder yet, but the Visualizer program is a huge waste of money. I think I'd have better success with dowsing with a stick!
Apr 30, 2016
1 people found Steve's review helpful.