OKM Future I-160 Reviews, Price and Specifications
Ground Penetrating Metal Detector
Retail Price: $28,330.00
Number of Reviews: 0
Be the first to review this item
Email to a friend.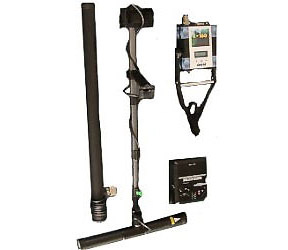 Specifications:
16 lines of resolutions per scan line
Acoustical magnetometer
High resolution ground scans in 3D
Live picture with horizontal ground scan antenna
Live picture with vertical pin pointing antenna
Graphical analysis on a computer
Visualizer 3D software completes all of the computations and displays the results instantly
Estimation of exact size and depth
12V power supply
9,35 GHz scan frequency
Depths of up to 18m
Dimensions: approx. 170 x 200 x 65mm
Live-Scan feature allows the operator to see buried objects as they are passed over.
Multi-sensor antenna array contains 16 Elliptical Area Multipoint Sensors (EAMS)
Resolution: 0,015 uT
Sampling Rate: 50 Hz
Weight: approx. 1500g
Bluetooth Technology
Live Scan Technology (Note: To view in "live scan mode" a laptop computer is required!)
The Future I-160etects various sub-surface structures and hidden items like:
Electrical Conduits
Water Pipes
Storm Drains
Gas Pipes
Buried objects like Canisters, Tanks and Boxes
Structural objects like Foundations and Cellars
Voids, Graves, Backfilled Areas, Caves and Tunnels
With the advancements in micro-processing technologies, OKM has been able to configure the ground balance mode directly within the metal detector unit. Calibrating the Future I-160 is also not necessary.