GPL 100 Reviews, Price and Specifications
Ground Penetrating Locator
Retail Price: $5,995.00
Number of Reviews: 1
Avg. Rating (1.0 Stars)

Email to a friend.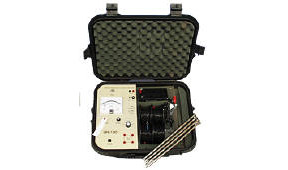 Specifications:
Analog Meter
Four Standard Rods
Four 74 foot Wire Spools
Battery Connectors
Battery Charger
12 volt Gel Battery
Operates exactly the same as the GPL 200, with large Primary Carrier Wave Meter, Rods, Wire Spools, Battery Systems, etc. Capable of reading as far down as 50 ft.
Does not work near a lot of water.
Phillip Castro in Cebu, Cebu, Philippines -

Bought this expensive item from KellyCo. Placed my order by phone and they shipped it to my address in the Philippines. After trying to use the detector a few time with no luck, I called the lady at KellyCo who sold me the item and she right away said, "No, it wont work in the Philippines because there is too much water nearby." Wish she had told me that when I was buying the unit. I sent the unit back with a friend but KellyCo would not take the unit back. I got burned big time.
May 21, 2015
7 people found Phillip Castro's review helpful.