Lorenz LPX2 Reviews, Price and Specifications
Deep Seeking Metal Detector
Retail Price: $1,955.00
Number of Reviews: 1
Avg. Rating (3.0 Stars)

Email to a friend.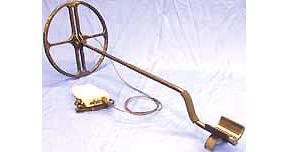 Specifications:
LPX2 electronics unit with belt clip
Carrying strap
headphones
Without Coils
Weight: Approx 2lbs (920g) (incl. batt.)
Operation frequency: 700/1300 pulses/sec.
Power Source: 15V = 10xAA-Batteries
Power Consumption: Approx. 130 mA
Usage Time: Approx 17h on alkalines
Operating Temp: -5 -+55c
Detection Depth: Coin 2cm 0 - 35cm
Iron Box: 30 x 18 x 15cm
Capable Machine
Mr. Stevens in Ogden, UT USA -

I bought this machine several years ago, and haven't used it very much. I bought it with the 1 meter x 1 meter search coil and the standard 10" white search coil. The 10" coil is more sensitive to smaller objects closer to the surface than the 1m x 1m coil. I haven't been able to verify the depth capability using the 1m x 1m coil. I wish it had a discrimination feature, so that I could screen out at least Iron objects, and maybe some aluminum. The instructions are scanty, with no help as to what to set or change the frequency to for different materials or conditions. There is no indicator at all on the unit. You have to go just on audio to determine what the material is, and I haven't been able to distinquish the difference between iron, gold, silver, aluminum, just by the audio. According to the instructions, the tone change is more an indication of depth than material. I think this would work well in a tailing pile, mountainside, or somewhere that has minimal trash, but is very difficult to use in a ghost town, or beach, unless you want to dig every signal. When using the 10" coil, the detecting depth is better than on my Minelab Explorer. When testing for a coin, I had buried it at about 1 ft. The 1m x 1m coil did not pick up the coin, but I may have been holding the coil too close to the ground, or too high up. It has no trouble with salt water. With more use and experimentation, I may get better results.
Oct 08, 2009
84 people found Mr. Stevens's review helpful.