Aurora Aqua Pulse (Canada) Reviews, Price and Specifications
Wrist-Mount Underwater Pulse Induction (PI) Metal Detector
Retail Price: $750.00
Number of Reviews: 3
Avg. Rating (2.0 Stars)

Email to a friend.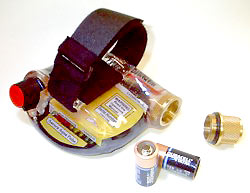 Specifications:
Three operating modes: Ferrous Mode, Non-Ferrous Mode
All Metal Mode with Target ID
Bright four color, ten segment, moving dot LED display
Built-in Vibalert
Submersible to 200 feet underwater
Designed for salt water and fresh water use
Power by user replaceable lithium batteries
No-motion Pinpointing
Batteries: replaceable Lithium 123(at 50 hour run time per set)
One year limited warranty
The Aurora Aqua Pulse is a ultra-low frequency miniature underwater metal detector which a scuba diver wears on the bottom of their wrist.
Worked for six years and then broke.
X in Hawaii -

I liked this detector but it humms now when you put the battary into it. I think the company in Canada died with the recession.
Dec 30, 2015
2 people found X's review helpful.
It Won't Work
Johel D Clark in green cove springs florida 32043 -

I bought it, and it does not work. And no one can fix it.
Jul 16, 2015
2 people found Johel D Clark's review helpful.
Works but depth is about 2 inches
Scubaman in Ohio USA -

I got one of these detectors when they first came out years ago. Vibrates when you find something so it can be good to find very shallow objects in very low visibility. I dive a lot and took it underwater many times in salt and fresh water. It is a very sound construction. I bought it about 14 years ago and it still works fine today. You can bring it places where you might not be allowed to bring a detector but don't expect it to detect much past 1 or 2 inches and the surface area isn't big either. If you've got money to blow, it's a neat toy but not recommended for a serious detectorist.
Apr 11, 2010
57 people found Scubaman's review helpful.