Treasure Baron TF 900 Automatic Reviews, Price and Specifications
2-Box Detector Metal Detector
Retail Price: $749.95
Number of Reviews: 1
Avg. Rating (3.0 Stars)

Email to a friend.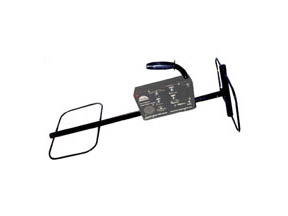 Specifications:
Dual Frequency operating modes: 12.5 kHz and 73.5 kHz
Built in speaker and 1/4 inch headphone jack
Automatic LED Battery Test Light
Handle mounted push button for easy "thumb-set" control
Ground reject VLF circuitry and ground reject control
Sensitivity control
Factory preset electronic null circuitry
Snap together all aluminum construction
Tone adjustment control
Two automatic tuning/pinpoint modes
Durable baked-on powder coat finish
Single 9-volt 6 cell "AA" battery pack
20-40 hour battery life
Weighs only 6 pounds
One Year warranty
TF-900 review
Jay J in ct usa -

I own this detector, having bought one about 4 years ago. Purchased it because it was cheaper than the 808, and Gemini 3. Well, I'm giving it 3 stars for right now, mostly because it is a very sensitive md to work with. However, having studied the manual a little more, and putting more time under my belt, I will say this 2-box is starting to surprise me with how accurate it is. Apparently quite a few hours is needed to get to know it and to get a feel for it. Don't all md companies say to spend time getting to know your detector? Very accurate pinpointing, as I am finding out. Be a bookworm and study and re-read your manual. Has a few features the 808 doesn't. Discovery has gone out of business, so I can't buy the opt cable tracing thing. Did I even need it? I bought some cheap foam pipe insulation and wrapped my TF with it, to protect it against brush, sticks, scratches, cause I want mine to stay new. But to anyone with one of these, I think that the more you use this, the better it will get, so I think my review will go to 5 stars eventually. And no, mine is not for sale...
Jul 13, 2013
11 people found Jay J's review helpful.