Teknetics T2 Reviews, Price and Specifications
All-Purpose Land Metal Detector
Retail Price: $999.00
Number of Reviews: 7
Avg. Rating (4.4 Stars)
Email to a friend.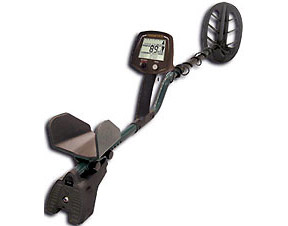 Specifications:
Large LCD Screen with Target Identification
Display: Straightforward Menu-Driven user interface, menu system is always visible
Selectable Tone I.D.: 6 different tone modes for Target I.D.
All Metals Mode: First derivative (single-filter) motion
Discrimination modes for searching in trashy areas
Ground Cancellation: Trigger-Actuated FASTGRAB Instant Ground Cancellation, Tunable Ground Cancellation
Continuous Ground Monitor: Bar-Graph Readout of Ground Mineral Classification
Magnetic Mineralization Volume Readout
Trigger-actuated target: pinpointing with variable audio pitch
Visual Target I.D: 0-99 plus eight target category indicators
Mineralization Readout: ground cancellation phase 0-99, and mineral concentration bar graph
Frequency Shifting: seven selections ( to avoid electrical interference)
Waterproof 11-inch Open-Frame Bi-Axial Search coil: handles the Highest Mineralization Soil, Great for Salt Water Beaches, Super Sensitive, Detect coins to 15 inches
Mechanical: S-rod with electronics housing mounted on handgrip, 3-piece breakdown, batteries under elbow, 2-way armrest adjustmentforward/backward and around forearm
Searchcoil: 11" (28 cm) open-frame elliptical double-D, waterproof
Batteries: 4 AA's, alkaline or NiMH
Weight: 3.5 pounds (1.6 kg) with alkaline batteries installed
Teknetics T2 LE
Rock in Utah\'s Outback, USA -

I purchased the Teknetics T2 LE with the extra large head for deep seeking a year ago. At first, in the all metal mode, I thought the chattering was going to drive me crazy! Finally, I gave in and read the manual... should have done that first! Great machine with great depth, (with the oversize head).
I wouldn't hesitate to put it up against any of the super high priced machines (the T2 is moderately priced at around $1000.00 with a $500.00 deepseeker head). My Garrett Eagle Eye would do well to keep up with it!
Nov 05, 2013
5 people found Rock's review helpful.
Good ....but a little fragile
Blackhat in United Kingdom -

First thing before parting with your money is to do a version check. Push/hold the trigger forward and, at same time, hold menu button in, THEN turn machine on. You want 6.0 or later.
By V6.0 you had improvements like the F75 lower shaft, and some niggles had been dealt with. If you use the cover set, then the On/Off/Volume control will not move. 6.0 will require the covers as the "environmental" seals which were added on later versions.
First the bad. I feel the construction is a little light if you intend to use larger coils. The excellent coil was made to look sexy by adding lots of struts from edge to centre. The drawback is that they pick up mud on a wet/muddy field, and it really needs a hose to clean off. Meanwhile you have to put up with the extra weight. The armrest has also been given a space-age look but this adds to the overall length of the detector which means I can't just place the detector in the back of my car.
As with the F75, there's a boost in performance that comes in as discrimination is increased. Unfortunately it's at too high a level to be of much use in Europe where low levels of discrimination are required.
Good points are that you have the sensitivity of a high frequency machine but retain the good depth of a lower frequency one. Recovery speed is excellent, amongst the best.
Lower end discrimination is wider than that of the F75. A big plus in Europe or for working in heavy iron areas.
One of the best instruction books. Well thought out.
In use, you have an easy access to a range of programmes and can operate the machine as a "beep/dig" detector or use tones. Another option is to detect in All Metal and just glance at the meter for target I.D.
This detector has replaced both my XP's and Tesoro machines for ploughed soil. It handles pasture and dry sand beaches very well and can be pressed into use on wet sand. Though, as with all single frequency detectors, it will not compete with pulse/multifrequency.
Final good points are that battery life is exceptional, and you can use third party coils unlike some of the latest detectors.
Now you have to decide whether to go with this model or spend more for the boost/cache version !
Nov 25, 2012
8 people found Blackhat's review helpful.
Great Detector!
Tony in North Italy -

The T2 is the best detector I've ever purchased. It works very well in the ground with heavy iron presence. Iron masking is not a problem for this machine, and the tones are very clear. The mode 2+ is ok: it helps to distinguish the depth and size of the object buried in the ground. Iron discrimination is fantastic: it is possible to accept/reject the iron object based on its size. Behaviour in mineralized ground is good - thanks to the biaxial coil! This detector gets only a few noises in presence of electrical power lines, and by changing the frequency and/or lowering the sensivity, it is possible to eliminate the noises.
Dec 26, 2010
5 people found Tony's review helpful.
T2 in the UK
Gary in York, UK -

I have owned a T2 for well over a year now and I personally think it is the best machine for the UK field conditions. It is super sensitive and very accurate on the numerical readings. I dig anything over number 50, and anything below is usually silver foil or trash. Best settings are the following: sensitivity at 80, discrimination at 5, and tones 2+. Also use frequency at 7. Good Hunting!
Sep 30, 2010
15 people found Gary 's review helpful.
T2 is a Terminator!
Silverman777 in United Kingdom -

I have now had the T2 for 12 months and had a good time out there in the fields to get to know the machine. Please do take the time to get used to it before you judge it. If you get the T2, you will not be sorry! Teknetics T2 is deep, very fast and it will make you look good! I think the T2 is the best machine out there for all terrains and will give you hours of fun. Oh yeah, I do not work for Teknetics. I do not know anyone that does. And I am the most horrible customer anyone can have - I just love to complain!.. (You can read a full review on T2 by Silverman777 and see his recommended program settings here: http://metaldetectingworld.com/teknetics_t2_program_settings_p1.shtml)
Dec 30, 2009
14 people found Silverman777's review helpful.
T2 ON/OFF knob modification
Beeter in Estonia, Tallinn -

After I have used Teknetics T2 for a while, I got tired of the ON/OFF & Volume regulation knob hiting my clothes or branches and such all the time and turning volume down. So I repositioned the knob from the side of the battery compartment to the front by making a second hole there and then setting up the potentiometer. To cover the old hole, where potentiometer was before, I used a black plastic (I used the back of slim CD cover). After that modification, I had no more problems with volume turning down anymore. I also put some PRF plastic spray onto electronics inside, to protect it from moisture.
Jan 31, 2009
12 people found Beeter's review helpful.
My favorite detector
Beeter in Estonia, Tallinn -

Very light, deep and sensitive detector. Good for hunted out sites with large ferrous trash amount. I have found very small silver coins, so called "wiremoney," with it. The only thing that I don't like in this maschine is that the On-Off/Volume knob hits your clothes during the search and turns the volume down, so I have to turn it back up all the time, or swing the detector with the left hand! Fisher F-75 has the same problem!
Jan 06, 2008
30 people found Beeter's review helpful.