Predator III Reviews, Price and Specifications
All-Purpose Land Metal Detector
Retail Price: $599.95
Number of Reviews: 2
Avg. Rating (1.0 Stars)

Email to a friend.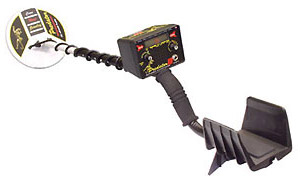 Specifications:
6.4 kHz Very Low Frequency<
Power: Two 9V Batteries<
Weighs only 2 Ibs. 12 oz<
Visual Target Identifications Meter<
Dual Target Alert Lights<
8.5" Predator Coil<
Microprocessor automatic operation<
LCD twin 10-segment notch scales<
LCD Target Center instant pinpointing<
Full range discrimination...ignores foil, nails, bottle caps and pull tabs<
Adjustable detection depth and sensitivity<
Interchangeable searchcoil capability<
Loudspeaker for clear target response<
Headphone Jack<
Surface-mount PC board<
Adjustable aluminum shaft<
High-impact housing ' Battery condition alert<
Deluxe padded hand grip<
Padded armrest<
3 year Warranty Parts and Labor
Biggest Joke of A Detector
Neal Hatfield in Utah -

This detector was a joke. I had this detector on the advice of a sales person. This detector won't detect anything deeper than about 2"-3". The beep, regardless of depth, is the same volume. Pinpointing is almost impossible considering that the units beep is the same length regardless of where the object is under the coil. The LED's on the front of the unit are no help whatsoever. The unit is way over priced for what you get. Don't waste your money on this detector.
Feb 11, 2009
11 people found Neal Hatfield's review helpful.
Traded It for a Garrett 250
Ed Kidder in lewiston idaho -

I bought this detector and, after about an hour of detecting, I saw that it would barely beep even at my steel toe boot at about 2 inches. While watching a friend with her new Ace 250 getting great results, I was thinking, "That's what I need!" So I traded (up).
Feb 24, 2008
11 people found Ed Kidder's review helpful.