Viper Reviews, Price and Specifications
Underwater/Land Metal Detector
Retail Price: $795.95
Number of Reviews: 1
Avg. Rating (5.0 Stars)

Email to a friend.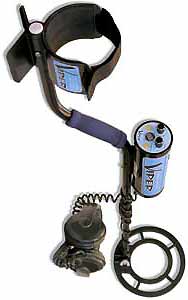 Specifications:
Concentric 10 Inch neutral buoyancy searchcoil
Dual underwater headphone for land and water
State-of-the-art highest reliable circuitry
Operating frequency 12.5 kHz
Automatic ground balancing
Adjustable discrimination - eliminate trash
Target response light for battery test and visual detection of in-ground targets
Audio Target detection through headphone
On-Off control with built-in detection depth control
Built-in automatic battery testing circuit
Operates on a 9-volt Battery
Lightweight at only 4.2 lbs
Powder coated upper and lower stems
Arm Rest with rubber cushions
Adjustable lower stem with locking ring
Extended length of metal detector is 46 inches
Collapsed length is 40 inches
5 Year Warranty
Sweet
Hunter Goldie in Not Submitted -

I havn't bought it yet, but on kellyco it goes for $339.95, and, hey, thats a great deal! 132 feet under water! That's awsome! Well I hope all you people have good luck! Wish me luck! Good luck hunting! My best find was a half inch thick 20k gold dimond incrusted chain neclace. That proves there is treasure out there, so go get it! I got $17,000 for the gold alone! The dimonds were 1/2 carat and valued at about $15,000.
Apr 14, 2011
5 people found Hunter Goldie's review helpful.