Viper Trident Reviews, Price and Specifications
Underwater/Land Metal Detector
Retail Price: $899.95
Number of Reviews: 7
Avg. Rating (3.3 Stars)

Email to a friend.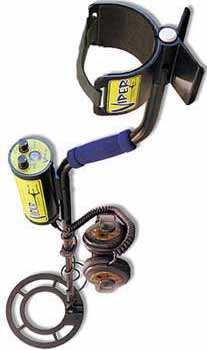 Specifications:
High-powered 10 Inch neutral buoyancy concentric searchcoil
Dual lightweight matched impedance Alpha 4v underwater headphone with heavy-duty coiled cord. For land and water
State-of-the-art highest reliable circuitry
Operating frequency 12.5 kHz
Fully automatic tuning
Fully automatic ground balancing
Full range adjustable Super VLF discrimination (eliminates trash, finds treasures)
Fast audio response for easier pin-pointing
Visual Bright Target response light
On-Off control with built-in detection depth control
Built-in automatic battery testing circuit
Operates on a 9-volt Battery
Coil design: open type to reduce weight
Lightweight at only 4.2 lbs
Heavy duty powered coated aluminum control housing
Powder coated upper and lower stems
Adjustable lower stem - Adjust for your height
Arm Rest with rubber cushions
Easy open battery door with o-ring seal
Total extended length of metal detector is 46 inches
Collapsed length is 40 inches
5 Year Warranty
One word
Dave in R.I. beaches -

Junk
Mar 05, 2017
0 people found Dave's review helpful.
My Viper
Larry Kitchen in florida -

Well I got a viper on ebay without noticing it was from China. Paid 185 bucks we really didn't have to spend. So I was stuck with it. So far I've found 7 gold rings, 3 standing liberty quarters, one 1941 half dollar, 60 weeties, over 2000 new and copper pennies and 3 silver bracelets (one is a pandoria). But it does work. MY HEAD IS TIED ON WITH A STRING. If you use it in the water, take wax from a bowl ring and seal around all spots that water could get in. I use my Viper underwater. It's all I had so I made the best of it.
Nov 30, 2015
2 people found Larry Kitchen's review helpful.
Bought a Viper Trident...A mistake.
OB in Virginia Beach VA USA -

I bought the Viper 5 years ago because I live near a beach and wanted a detector I could use in the surf and on wet sand. I also didn't want to spend alot of money. Well, you get what you pay for. It doesn't do either very well. I have a 20 year old White's Coinmaster that does a better job at finding items on dry sand than the Viper. Check the reviews, and the manufacturer that has the least bad ones is the one you should buy from. I recently purchased a White's Dual Field and I am happy with it. If you go to trashy areas, don't get a Pulse Induction detector. They pick up everything! You will be digging forever. Again check reviews before you buy. Good Luck!
Aug 07, 2012
10 people found OB's review helpful.
You get what you pay for. Do reseach b4 you buy.
OB the Sandman in Virginia Beach VA -

Unfortunately I did not do enough reseach. I bought the Viper and now regret it. I live near the beach and I owned a White's coinmaster that I bought in the early 90's. It worked great in dry sand. I found items up to 12 inches deep. I needed a MD that worked well in wet sand and the surf. I saw the Viper and the ads and was taken in. The Viper has 1 9-volt battery. You won't go very deep with that. The headset is terrible. It is uncomfortable and the pads keep falling off. I never found anything in the surf with it. Buy a make with a better rep and check the repair times if you ever have to return it. Do plenty of research before you buy.
Jun 06, 2012
8 people found OB the Sandman's review helpful.
Great Metal Detector for Beginers
Jordan in Florida -

I own 2 of them, and they work great for learning but they do not discriminate well between items in the ground. What I mean by that is you will never really know the difference between a necklace and a beer can because they will pretty much make the same noise. When purchasing metal detectors, there are alternatives from China that cost less but not nearly as low priced as the previous reviewer claims. Also you have to wait a month or more to get it and are never sure if it's a scam or not. So, yes, you can get a metal detector from China that will cost you 1000 instead of 5000 from Kellyco. Do your own research and never trust one person's opinion.
May 17, 2012
4 people found Jordan's review helpful.
Trash
Nico in North ,NJ -

Thank You Mike from Central NJ. I guessed that it was trash.
Sep 20, 2011
6 people found Nico's review helpful.
Stay away from these! Warning!
Mike in Central, NJ -

O'kay, first off, these are NOT made in the USA, they are made in china!!! These are Chinese junk that retailers buy for $30-60 a piece, them turn around and sell them for $300-600! (I have no idea why, even KellyCo sells this JUNK for some reason and is completely beyond me....) If you don't believe me, do a quick google search for viper trident reviews....it will astound you. Because it shocked me also, I almost bought one! Goes to show, even a little research goes a LONG way. These things aren't water proof, they literally fail immediately once they touch water! And there's tons of reviews to back this up. I cannot believe no one has put up the red flag on this company yet on this website? I guess most people who come here tend to just want reviews on Name Brand detectors, not Chinese crap. Well, I'm glad I could spread the word then, hopefully I will save you several hundred dollars. NOTE: This company also makes ALOT of other junk detectors under OTHER names, so please google search the brand and reviews before you buy it! Have a nice day!
Jan 12, 2010
253 people found Mike's review helpful.