Treasure Hunter Vision 3030 Reviews, Price and Specifications
All-Purpose Land Metal Detector
Retail Price: $695.95
Number of Reviews: 6
Avg. Rating (3.7 Stars)

Email to a friend.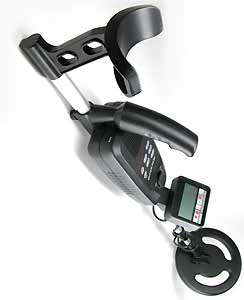 Specifications:
Most powerful detector by TR
Selectable for target detection/rejection
Lightweight for ease of use
Z-100 18-bit computer
Programmable sensitivity adjustment
Auto ground balancing
1/8 inch headphone jack
Touch-pad control panel
Target image indication with large LCD
LCD can display the depth of the target, the sensitivity, disc/notch, metal type
3 distinctive audible tones for different metals
Auto low battery indication
Telescopic handle new comfort design
Waterproof 8" coil
Professional treasure hunting detector
Uses 2-9V batteries
5-Year Limited Warranty
The bad reviews are from bad machines. It's pot luck
Nigel in windsor ,uk -

I have bought one off ebay, that hasn't had much use. I have tried it in my highly mineralised garden and it performs very well. This machine is a match performance wise to a Garrett Ace 150, but the build quality is lower. It's for something to use with kids on a beach or a ploughed field. It's very capable. Depth is limited to about 7" on coins, but sensitivity is good. Disc on small iron is very good. Don't use the notch ever otherwise you will loose good finds. Just knock out your small nails, and, once you are used to meter, you will spot the large iron readings. I paid £30 for it used, what would I pay new £80 max. The GC-1023 by same company is better machine because it's analogue and much faster response. in fact, the GC-1023 is better than a Garrett Ace 250 any day, and is £80 new. If someone says it's trash, it's because it got broke in post.
Jun 05, 2015
0 people found Nigel's review helpful.
It detects deep
bobbytb50 in Newport, Ky USA -

I bought this detector online and had it for about 3 weeks. Our yard has alot of trash and in all metal mode we found alot of junk. However, in the notch mode and some fine tuning, it detected coins everytime. Some were about 6-7 inches deep and some about 8-9 inches deeep. I love this machine! It is made mostly of plastic, but it works better than my Bounty Hunter. I have had fun with it and thats the most important thing.
Nov 14, 2012
4 people found bobbytb50's review helpful.
Rubbish
Paul in Gold Coast, Queensland -

This product is made in China. It is a Gold Century (GC1010). The all metals is quite ok but the discrimination part is rubbish. I paid $100 for this new and I returned it after a few days. The instructions were rubbish. Chinese made rubbish.
Sep 01, 2010
10 people found Paul's review helpful.
Junk
Tony in usa -

I have a similar model 3010 and it is also junk. It is good for surface findings only. I tried to bury a couple of nickles and a couple of pennies in my kids sand box a few inches maybe three and it took nearly an hour to find them. The sand box was about a 3 foot circle. Could you imagine going out and trying to find something on a beach. Would you spend an hour in a 3 foot circle on a beach in hopes that there might be something there. This is junk equipment. At least I knew my sandbox had coins.
Jul 11, 2009
9 people found Tony's review helpful.
Great Machine!
John Cox in Miami, FL -

I purchased my 3030 from eBay and it works very well. It has a depth readout and goes about 5 inches for a quarter. This goes deeper than my $500 unit and the sensitivity works well with some experience. I have been using it in All Metals mode with great success. I am fine tuning the settings to have greater success but I am a bit of a novice.
Oct 11, 2008
14 people found John Cox's review helpful.
Save Your Money
Rick Brinkman in Concord NC USA -

Hello! Bought this on Ebay (NEW) with out doing my research. This is my 1st detector to test the waters of this hobby. I have read the manual over and over and this (KIDS TOY) cannot see most of what it goes over on top of the ground and nothing in the ground. The price is a joke, for this money you can buy a very good detector. Very CHEAPLEY made and no fun at all to use.
Feb 22, 2008
32 people found Rick Brinkman's review helpful.