DetectorPro Headhunter Wader Reviews, Price and Specifications
Underwater/Surf/Beach/Land Metal Detector
Retail Price: $650.00
Number of Reviews: 1
Avg. Rating (5.0 Stars)

Email to a friend.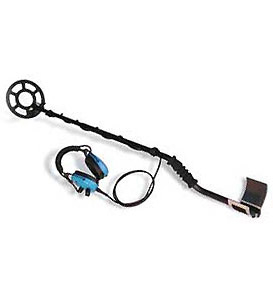 Specifications:
Operating Search Frequency: 2.4kHz quartz crystal controlled
Searchcoil:Solid 8 inch MegaDEPTH heavy-duty negative buoyancy coil, co-planar, RF shielded, alternate choice of 10" searchcoil
Headphone Transducers: Permanently encapsulated high-output piezoelectric
Audio Frequency: 400Hz
Headphone Earcups: Heavy-duty polymer full ear surround; extra comfortable soft cushions, ambient noise blocking up to 24 decibels
Headphone Frame: Adjustable padded headband, compact carry foldable design
Search Mode: Silent search, slow motion full range discrimination
Operating environments: Land, Mountains and Salt and fresh water up to 6 feet, beach, and rain storms
Cable: Straight, heavy-duty coil wire for added strength
Hand Grip: Soft foam anatomic for all-day use
Rods: Self-draining anodized aluminum with durable baked on black powder coating
Armrest: Adjustable stainless steel with waterproof padding
Isolator: Heavy-duty non-metallic with nylon wingnut and stud assembly
Rod Length: 43 to 53 inches
Breakdown: Three pieces for easy storage and travel
Weight With Batteries: 3.5 pounds
Batteries: (2) 9-Volt cells of any type
Battery Life: Up to 50 hours (alkaline)
Applications: Jewelry, relic, and coin hunting
Warranty: Two Years
All the electronics built into the headphones
Detectorpro Wader
Sven in Ontario, Canada -

This unit has been around for a long time, patterned after the Fisher 1280x, just in a compact form. Brilliant concept of putting the electronics and batteries in the headset. Makes for an easy to swing and low drag in the water metal detector.
Waterproof to 6 feet, just keep the headset on your head. I don't think you really want to test its waterproof ability. If you are hunting on land, the Wader is a great all weather machine - no need to cover anything up when it starts raining. Its waterproof design could save the day at a competition hunt...
I have owned a Wader since 2005 and it's only been to the factory once for tuning. Now, I make sure that the headset don't fall off my head. Something to be conscious about, if they fall off and hit the ground. It could result in damage. Even if you manage to catch it before it falls to the ground, it could still sustain damage. How? Most treasure hunter by instinct will grab the headphone cord. The sudden jolt on the cord could possibly yank the crossover wire causing them to break.
I have used the Wader in the water, school grounds, soccer fields, woods. A nice all around detector. You can't go wrong buying a Wader.
Jul 20, 2010
25 people found Sven's review helpful.