DetectorPro Headhunter Pulse Reviews, Price and Specifications
Underwater/Surf/Beach/Land PI Metal Detector
Retail Price: $799.00
Number of Reviews: 2
Avg. Rating (5.0 Stars)

Email to a friend.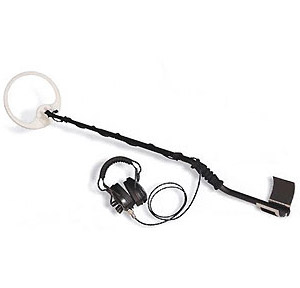 Specifications:
Operating Search Frequency: Adjustable
Searchcoils: 11-inch round open-center; alternate or optional 8" searchcoil with UW connector
Headphone Transducers: Permanently encapsulated high-output piezoelectric
Audio Frequency: Adjustable
Headphone Earcups: Heavy-duty polymer full ear surround; extra comfortable soft cushions, ambient noise blocking up to 24 decibels, heavy-duty ear-to-ear wiring with
New seals for added strength; heavier duty sealing plates;
UW connector for interchangeable searchcoils
Headphone Frame: Adjustable padded headband, compact carry foldable design
Controls: Full-range Volume, Frequency Adjust, and Tuning
Search Mode: Slow motion all-metal
Operating environments: Salt and fresh water up to 6 feet, beach, and rain storms
Cable: Straight, heavy-duty coil wire for added strength
Hand Grip: Soft foam anatomic for all-day use
Rods: Self-draining anodized aluminum with durable baked on black powder coating;
lower shaft extension for easy conversion to wading configuration
Armrest: Adjustable stainless steel with waterproof padding
Isolator: Heavy-duty non-metallic with nylon wingnut and stud assembly
Rod Length: 43 to 53 inches
Breakdown: Three pieces for easy storage and travel
Weight With Batteries: 3.5 pounds
Batteries: (2) 9-Volt cells of any type
Battery Life: 8-12 hours (alkaline)
Applications: Jewelry, relic, and coin hunting
Warranty: Two Years
All the electronics built into the headphones
Great for Finding Gold
Guest in BC, Canada -

I found this detector to be fantastic for gold jewelery. You dig everything with this detector since a pulse unit has no discrimination. I am getting used to the sounds for different items. I use it on the beach and I put on a wetsuit and go into lakes to find coins and jewelery. I've found all of my gold in the water. It is very deep. I've found coins well over 14" down in a saltwater black sand beach.
Feb 16, 2010
32 people found Guest's review helpful.
Good Gravy
Bob in sioux falls, sd usa -

This machine is very good, but one thing, I still don't understand how they pack all the electronics into the headphones. It found me a barber dime, half penny, and 3 gold rings in 2 weeks.
Oct 03, 2008
37 people found Bob's review helpful.