DetectorPro Headhunter Diver Reviews, Price and Specifications
Underwater/Surf/Beach/Land Metal Detector
Retail Price: $799.00
Number of Reviews: 1
Avg. Rating (1.0 Stars)

Email to a friend.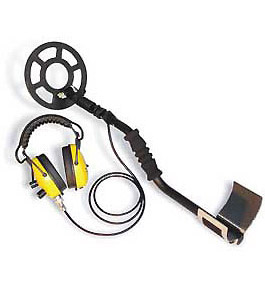 Specifications:
Operating Search Frequency: 2.4kHz quartz crystal controlled
Searchcoil:Solid 8" MegaDEPTH heavy-duty negative buoyancy coil, co-planar, RF shielded, (optional) 10" searchcoil with UW connector
Headphone Transducers: Permanently encapsulated high-output piezoelectric
Audio Frequency: 400 Hz
Search Mode: Silent search, slow motion full range discrimination
Operating Environments: Land, Mountains Salt and fresh water to 100 feet, beach, rain storms
Length: Adjustable from 27" to 53"
Weight w/Batteries: 3.5 Pounds
Batteries: (2) 9-Volt cells of any type
Battery Life: up to 50 hours (alkaline)
Warranty: 2 years
All the electronics built into the headphones
Don't buy this machine
Guest in Columbus, OH -

Detector works well as long as you don't take it into the water. The o-rings in the headphones are extremely hard to line up. I don't recommend this detector if you want to water hunt. A very poor design.
Jun 18, 2008
38 people found Guest's review helpful.