Troy Shadow X5 Reviews, Price and Specifications
All-Purpose Land Metal Detector
Retail Price: $1,099.00
Number of Reviews: 2
Avg. Rating (4.5 Stars)

Email to a friend.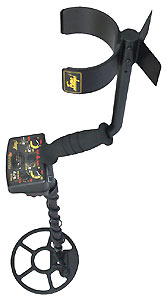 Specifications:
Ultra-Light Weatherproof Design
Weight: 2.5 lbs With Battery
Turn-On-and-Go Operation
Fixed Pre-Set and Manual Ground Balance
Silent Search Operation
Adjustable Audio Threshold
All-Metal Auto Tune Operation
VLF Fast Response
VCO Pinpoint (Non Motion)
Audio Discriminator: Full Range (All-Metal)
Ground Balance: Fixed Pre-Set and Switchable 10 Turn Precision Ground Balance Control
Operating Frequency: 19 kHz
Frequency Shifter: 140 hz Above and Below 19 kHz
Standard Search Coil: Waterproof 9-Inch Round Concentric Spider
Search Coil Compatibility: 7-Inch Accessory Round Concentric and Future TCD Accessary Coils
Coil Cable Length: Approximately 3 ft 6 Inches (42 Inches)
Audio Frequency: Approximately 600 Hz Discrimination, 550 Hz All-Metal Auto Tune
Audio Output: 1-1/2 inch Weatherproof Speaker and a 1/4 inch Weatherproof Headphone Jack
Standard 1/4 inch Stereo Plug
Battery Requirement: Single 9 Volt (Alkaline or Lithium)
Battery Life (Typical): 25 Hours (Alkaline); 50 hours (Lithium)
Battery Compartment: Drop-In Weatherproof (No Wires or Connectors)
Battery Door: Weatherproof with Positive Lock Fastener
Battery Test: On-Demand Variable Audio Tone
Control Housing: Internal RFI Shielding and Weatherproof
Pushbutton Switch: Weatherproof
Toggle Switches: Weatherproof With Internal 0-Ring in Actuator
Control Knobs: With O-Ring and Tension Adjustable
Optimum Temperature: 20 to 110 degrees F
Optimum Humidity: 0 to 100% R. H.
Rod Design: 3 Piece with Locking Ring Stabilizers
Arm Cup: Adjustable, Forward and Backward and To Arm Size
Warranty: Limited Lifetime
Simply Stunning
The Expert in england -

With this machine, I have found coins and artifacts from early Bronze age through to Celtic, Roman, Anglo Saxon, early Medieval, Viking, ect., ect., ect. I have four of the X5's and one X3.
Jul 24, 2017
0 people found The Expert's review helpful.
Great detector!
Canada in Not Submitted -

This detector is easy to use and finds targets at more depth than the typical detector (we've tested a few to compare). It is a quality made machine, there's no question about it. The only issue we have to complain about is when attempting to use around interference such as high voltage wires. It is not possible to use as it simply chatters. Best to have a 2nd detector on hand for such an occasion.
Apr 13, 2008
44 people found Canada's review helpful.